Process 011 ☼ Four Ways To Find Your Voice
Giveaway: Matt Day's Book "Friend of Mine"
Dear friends,
Last week I asked what I should write about next. You had so many good ideas! This week as we dive into a topic that came up a bunch:
How do I find my voice? How do I develop my own style of photography?
Also, this issue's giveaway is Matt Day's photo book "Friend of Mine".
---
A note before we start: For the purpose of this newsletter we'll define someone's photographic voice as their unique visual style.
Four ways to find and develop your voice:
1. Always Be Shooting
Shoot all the time, as often as possible, using any tool you have access to. If you have a small camera, bring it everywhere. If you don't have a camera, use your phone. If you don't have a phone, use your eyes and take pictures in your mind.
Photography is a craft that revolves around learning how to notice. The better you are at noticing interesting moments, the better you will be at documenting them.
It's not about having the best camera, the sharpest lens, or the perfect settings. You can have the most high-end camera, but if you're not well-practiced at noticing small moments of beauty, conflict or tenderness, you won't move anyone's soul.
That is not to say that tools don't matter, just that they're not the most important thing. Noticing first, tools second.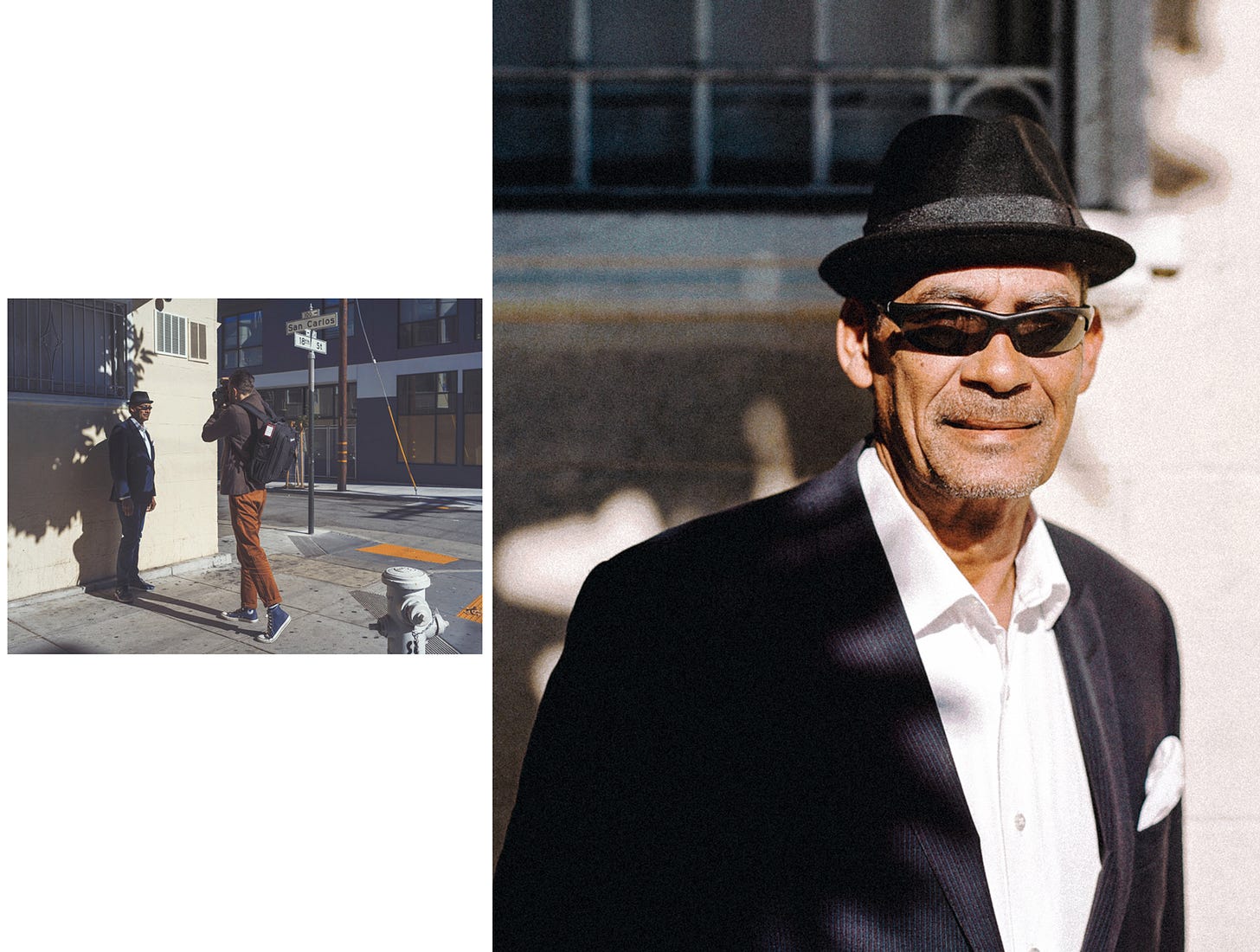 Above is a portrait I took of a gentleman in San Francisco right on a street corner where the combination of sunlight, his jazzy outfit, and a nearby tree created a special moment. I was out with my friend Christopher Michel and as soon as I spotted this gentleman I crossed the street and stopped him for a portrait. Chris grabbed the behind-the-scenes shot on the left of the moment as it happened.
2. Read Photo Books
The great Robert Mapplethorpe once said: "the more photos you see, the better you are as a photographer." Spending time looking at photo books is one of the best investments that you can make. It's better than looking at Instagram, better than buying a new lens, and better than sending another pitch email. It will nurture you.
Let the greats be your mentors. Analyze their work. Spend time looking at individual images but also how their sequence tells a story. Look at the composition and ask yourself why it makes your feel a certain way. Then figure out how they did it.

Photo books can be expensive and difficult to find, but you don't have to own a photo book to be able to learn from it. Your local library is a great resource. Grab a stack of books and spend few hours with them. Take notes about what you like and then try it.
Side note: every photo book listed on The Observers has a "Library Button". It shows which library nearest to you has that book available and it works in almost all countries. Use it!
3. Mimic
When you're reading photo books and taking notes about work that moves you, use those notes to practice and advance your own work. The road to artistic growth starts with mimicry, because that's how humans learn.
When I first saw an exhibit with work by George Holz I was blown away. One of the things I loved most about his work was the depth of his blacks and the general tones he achieved. A perfect example is the cover of his book Holz Hollywood, below, with his stunning portrait of actor Dennis Hopper. It's so good it makes me want to curse!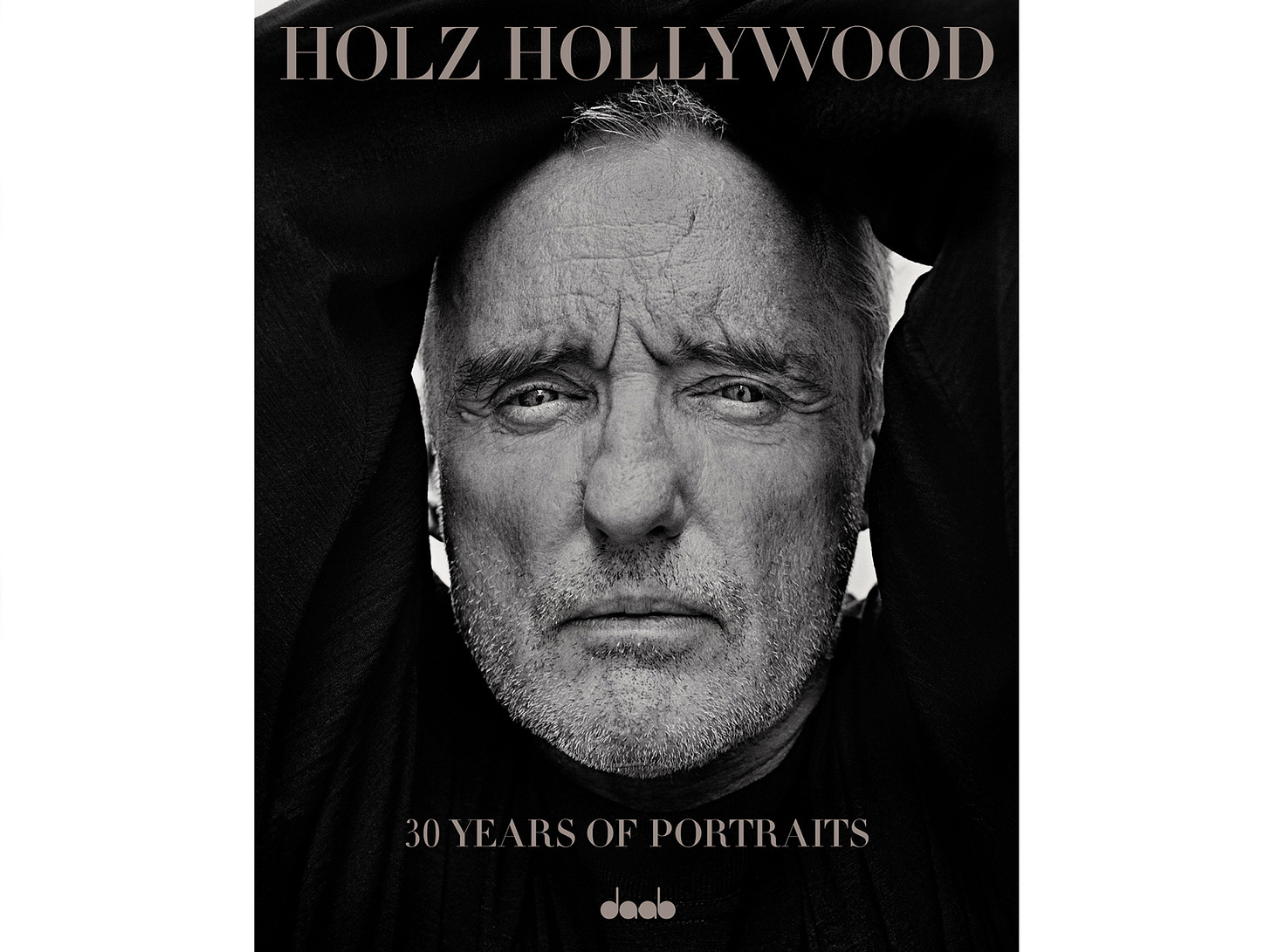 I didn't know how George achieved these blacks, but I knew my blacks didn't have the same soulful power. I started experimenting with different ways of metering, developing, and editing, trying to figure it all out. I never quite did but in the process of trying to mimic I transformed my work, learned a lot, and felt deeply inspired.
Below are two images I shot earlier this year when I was very focused on my blacks. (Models: Dave and Laura, hair and make up by Charlotte, Banshee, and Blanca.)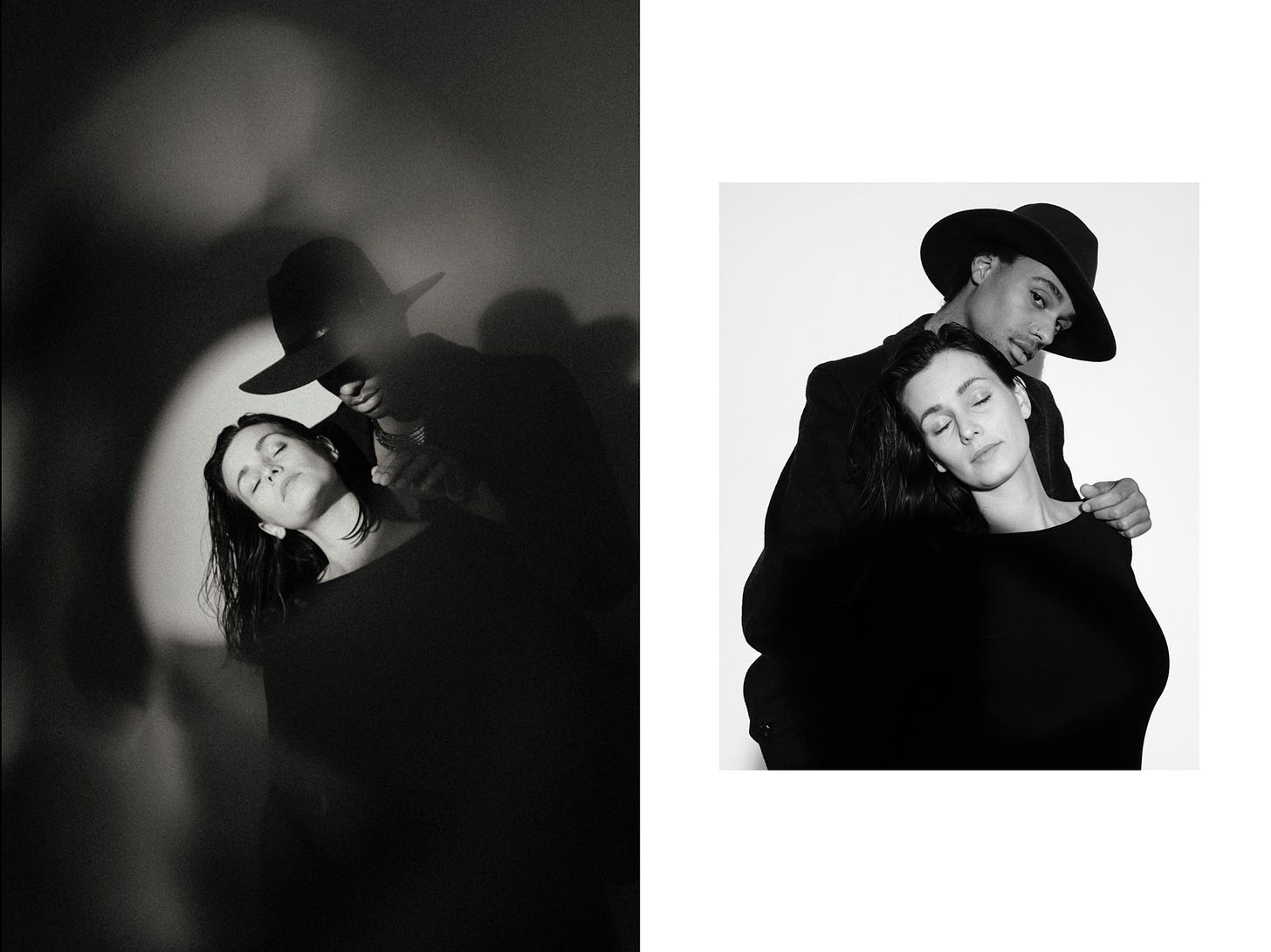 The point of mimicry is not to become a copy of the photographer you admire, but to use it as a tool to discover the photographer you want to be.
4. Replenish Your Well
Make sure to do things outside of photography that fill your soul and replenish your well of stories. Whether it's gardening, volunteering at a local non-profit, or spending time with loved ones. All of it will inform your photography.
This is a big one for me personally. If I am not mindful of this I can get too caught up in work and forget to live outside of my head. Making my passion into a career is something I am truly grateful for, but this challenge is real! Must.get.new.hobby.
---
Alright, that's it for this week. Remember it's an ongoing process. You won't ever finish discovering, which is part of the fun. Get out and find your voice this weekend.
Masked, but smiling.
Wesley
PS Notice book update: next week we start talking to printers! And there will be video!
PPS Sending this one out on Saturday instead of Sunday, might stick as the new Process day?
---
Process Giveaway!
My friend Matt Day is one of the OG's of photography YouTube and an all-around fountain of kindness and inspiration. He just announced the pre-order for his photo book "Friend of Mine", which is about his hometown. This is your chance to win a copy.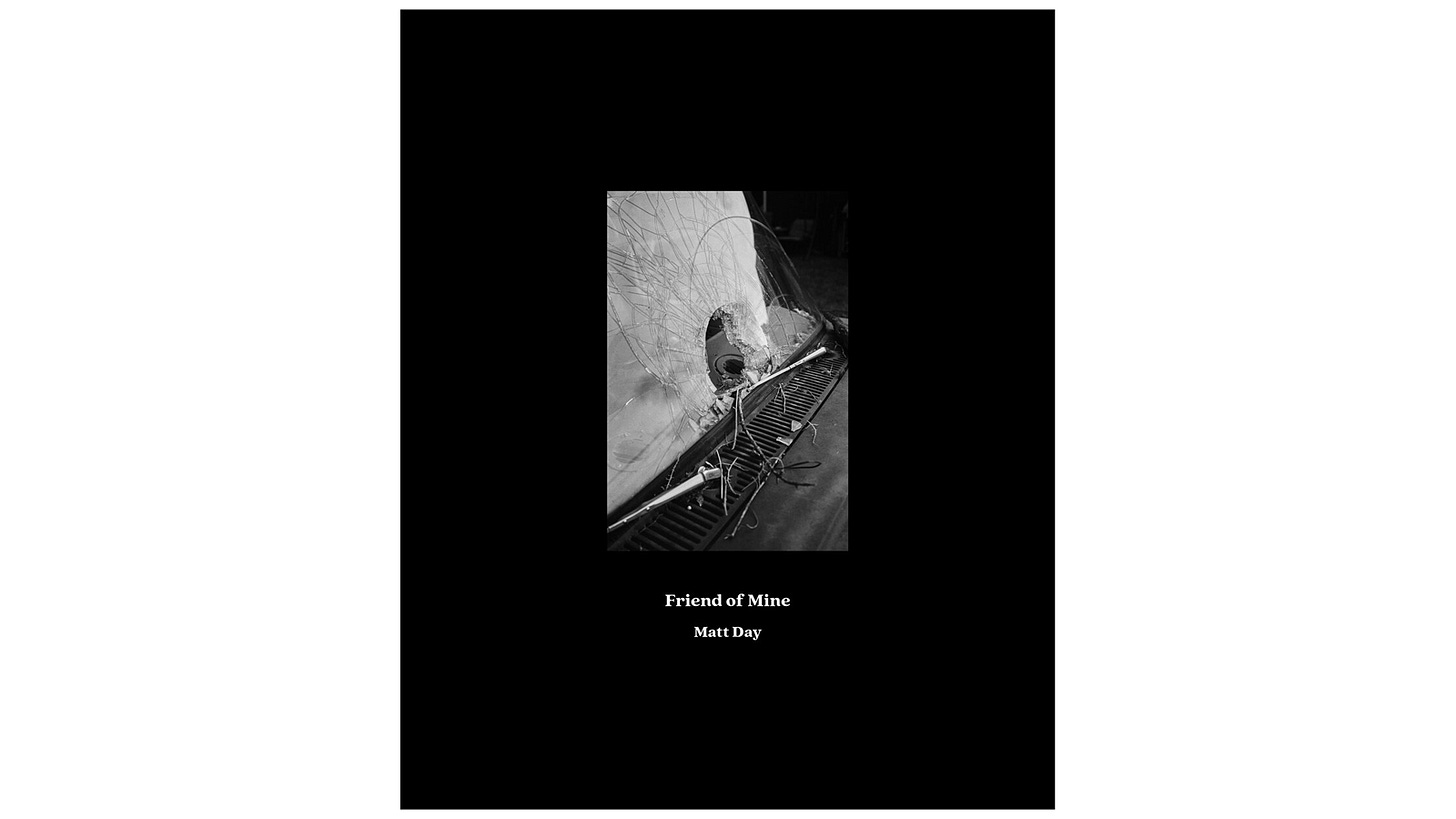 To enter hit reply or email me at hello@wesley.co before October 27th 11pm EST and answer the following question:
What is your favorite photo book?*
*If you don't have a favorite photo book yet, mention your favorite photo youtube channel.
ONE winner will be randomly drawn. For Process subscribers only. Check out Matt's Youtube channel, follow him on Instagram, and pre-order "Friend of Mine" here.
Congrats to Jorn for winning last week's Kodak Professional Europe film pack giveaway.
---
Would you like to support Process? Great! Tell your friends about it. Just click below:
If you're a new reader, browse the Process archives here.
Process is a weekly letter from Wesley Verhoeve.
Follow at @wesley.