Process 009 ☼ How One of My Portraits Was Shot...Into Space?
Give Away: Huemanity Zine by Frank Young
Dear friends,
Today a story about how a random encounter with a stranger led to a test shoot, and my work being included in an amazing photo book. Oh yea and it was also projected into…space?
Also, a giveaway of a beautiful zine by Frank D. Young called Huemanity.
---
A Chance Encounter
My favorite photo activity is to walk around a big city, people watch, and approach interesting strangers for a portrait and a conversation. Any large gathering of people also works. (Remember gatherings? Those were fun, sigh.)
Not too long ago, one early Friday morning, I attended a Creative Mornings event in New York City. As I walked to my seat, I passed the front row and noticed a person with a great sense of style and a unique energy. I immediately knew I wanted to take her portrait.
One thing that I've learned from street photography is that waiting is never a good idea. Take the photo right away, or the light will change. Talk to the person as soon as you notice them, or they will be gone. Photos that you think about taking but don't are the photos that will haunt you forever.
Once we got to talking I learned her name was Sierra and that she was a fellow photographer. While she didn't usually like to appear in front of the camera she made an exception and kindly agreed to a studio portrait session in the future.
The Test Shoot
About a week later, Sierra made the trek from Harlem to Brooklyn. My friend and collaborator Paul Jun joined us for the shoot, as did Justin who I had street cast earlier at a skate park.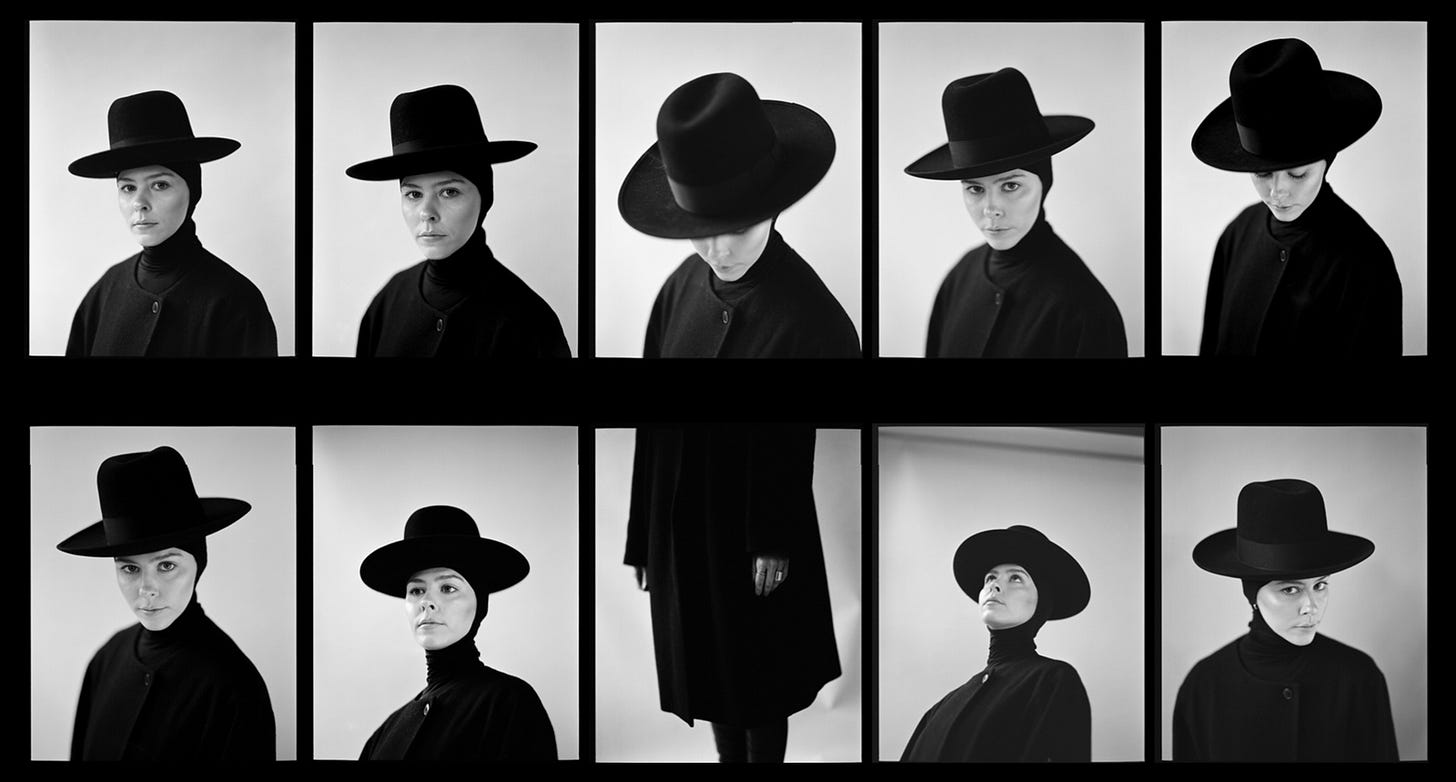 I shot a few rolls of color and black and white across various formats, including one on Kodak Tri-X (above) and Tmax (below) on my Pentax 67ii. We kept things simple, using day light and an eggshell backdrop in the Tattly studio.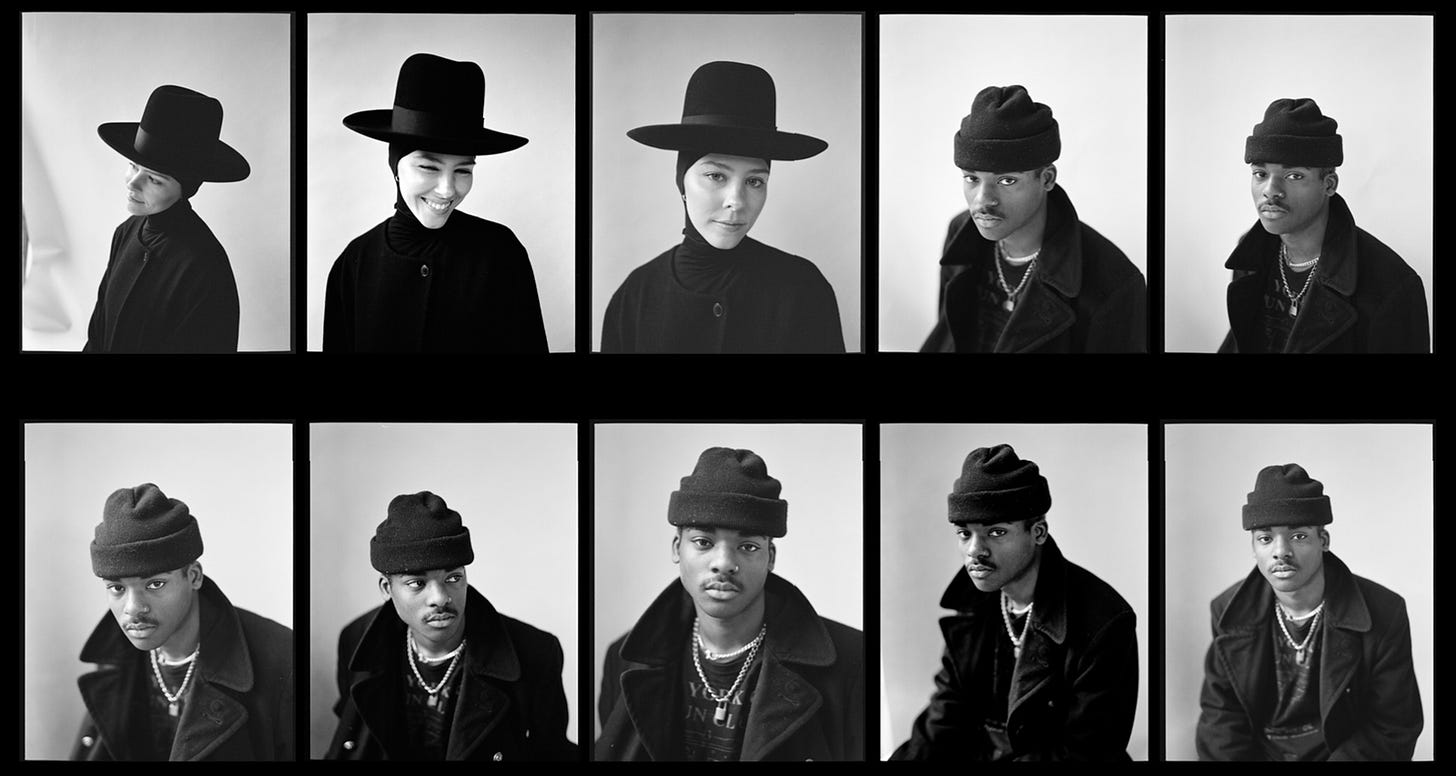 It was such a wonderful session. Sierra and Justin emanated such authenticity, good music filled the room, and the sunlight was perfect and warm. The afternoon flew by and Paul and I snapped away.
Sitting for a portrait can be a special and intimate experience. In this day and age we're not used to truly being seen. This goes for the photographer as well, it can be a little scary to essentially stare at a stranger and find little bits of our own humanity in their eyes. At its best it can be a moment of true connection and vulnerability.
I later learned it was a special moment for Sierra as well. In her own words:
"Wesley and I met at a vulnerable time in my life, when all of my creative [photography] pursuits stemmed solely from being alone and working strictly from within; completely shut-off from outside influence. Unbeknownst to him, prior to our chance encounter, I hadn't left my neighborhood in months due to debilitating anxiety. On that particular morning, though hesitant to leave the quiet room in which most of my life had been spent, I vowed to not only leave my neighborhood, but also to leave myself open for connection. This was the beginning of what would immediately become a symphony of goodness. A simple break in solitude served as a reminder of all the beauty that exists on the other side, just beyond fear."
Just re-reading that makes me emotional! It shows us that we never know what might be going on in another person's life. Our craft can be such a wonderful way to connect and make an impact on each other, even if just briefly.
My favorite shot of Sierra was the one where she was most relaxed and mid-laugh, at the very end of the shoot. Below is the original as well as my cropped final version.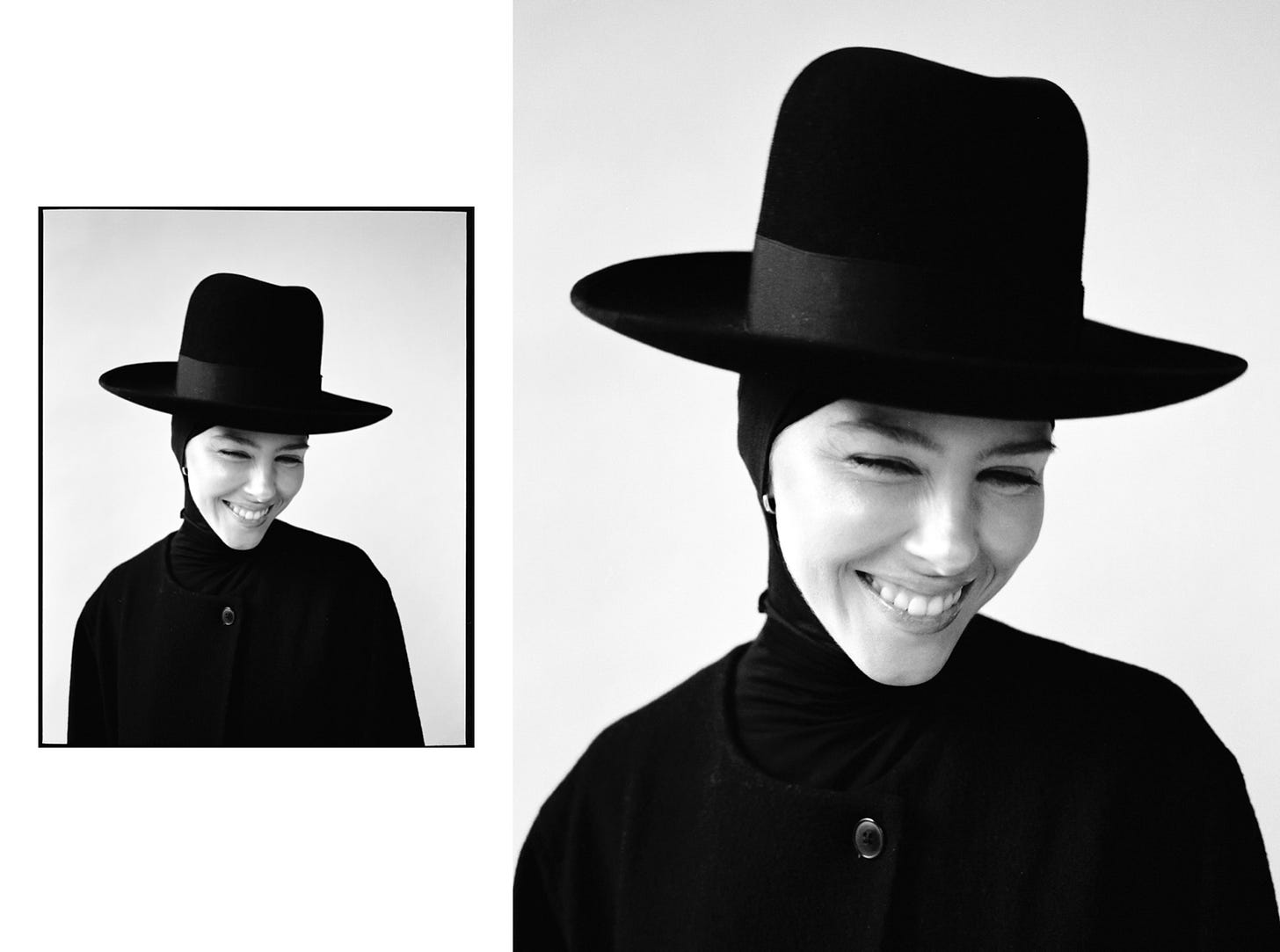 The Book and the Space…Projection?!
A few months later I included Sierra's portrait in my submission for the Portrait of Humanity project, which is a wonderful initiative of 1854 Media, publisher of British Journal of Photography.
Several months later still I received a note informing me that Sierra's portrait was selected to appear in the second volume of the Portrait of Humanity book along with many photographers whose work I adore. A true honor and a big surprise.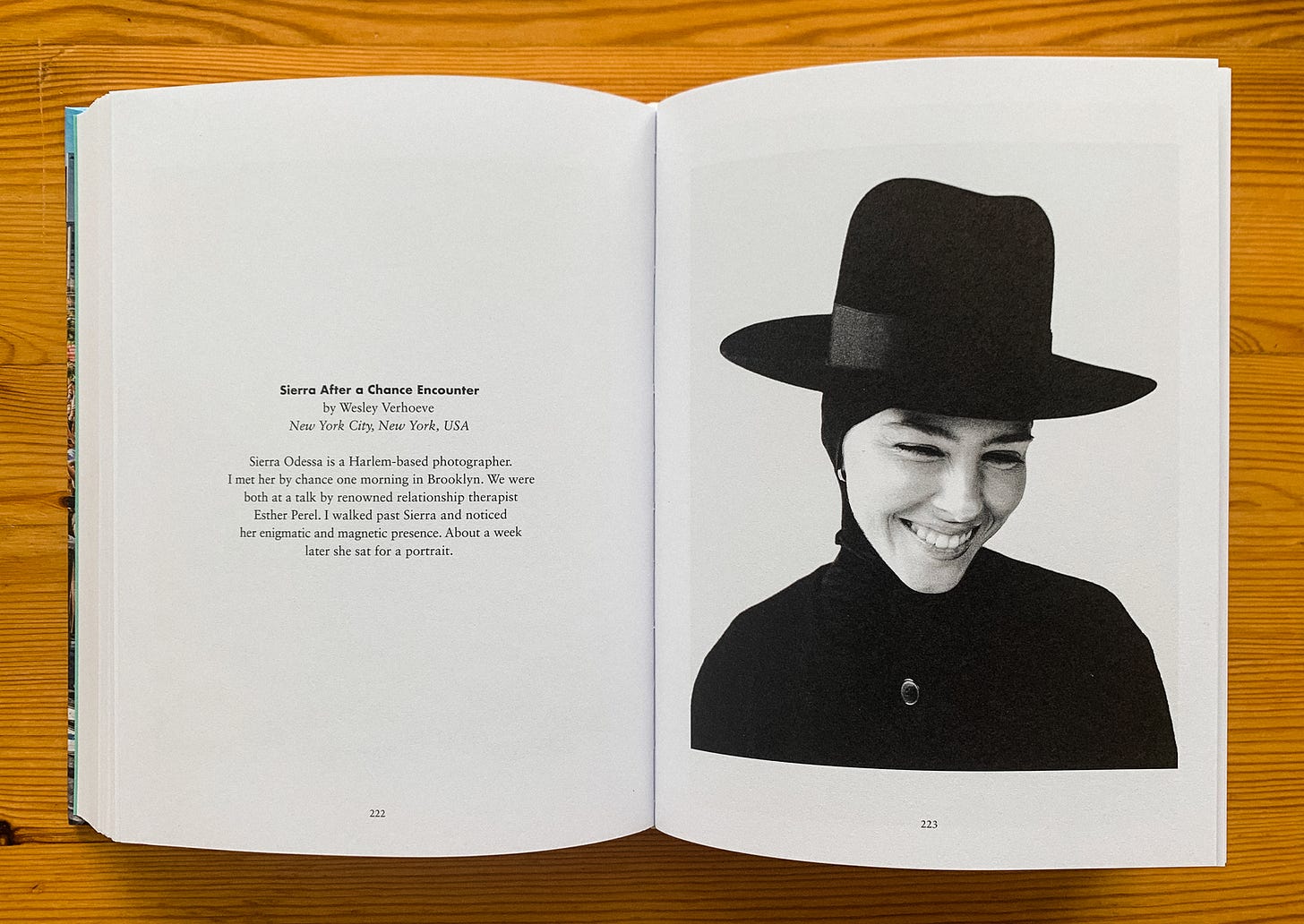 Hoxton Mini Press did such a fantastic job with paper selection and book design it instantly inspired me to start working on my own book. (More on my book next issue!)
Something I had forgotten in all my excitement was that the images from the book would also be included in an exhibition ascending 130,000 feet into the stratosphere. That's right, our portrait was exhibited in…space! Screenshot below, and you can watch the full exhibition video here.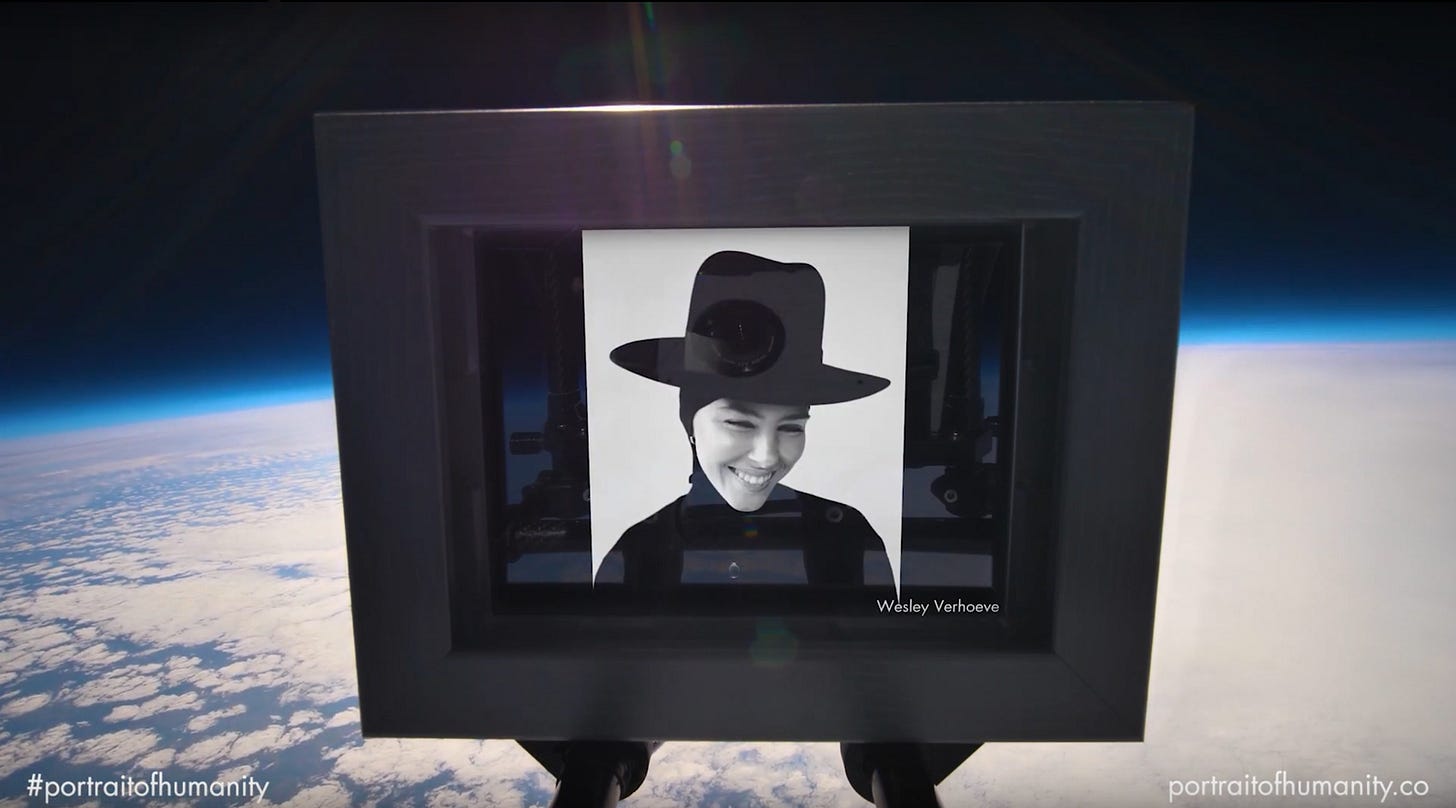 And all of that from a simple chance meeting!
Take Aways
Don't Be Shy, Just Ask — If you see an interesting person you'd love to photography, approach them respectfully and with a smile. The worst that can happen is that they say no which is not as bad as wondering "what if" because you didn't ask.

Photography Can Help Others Feel Seen — Photography is an opportunity to look outside of ourselves and help other people tell their story. That's a beautiful thing but also a responsibility. To be seen can be uncomfortable and it's on us to make sure we do what we can to make it a good experience for all involved.

Don't Wait — Take every photo you see. You never know what may come of it. I didn't know this photo would end up in a book or space, all I knew was that Sierra was a special person and that I'd love an opportunity to photograph her the way I saw her.
That's it for this week friends. I hope you will feel inspired to ask a stranger if you can take their portrait this week (from a safe distance).
Next week I will share an update on my upcoming book Notice. It's the most complex and rewarding project I've ever worked and I can't wait to let you in on the process. Oh and a special film giveaway courtesy of my friends at Kodak.
Keep on keeping on!
Wesley
---
Process Giveaway!
My pal Frank D. Young recently released his zine "Huemanity", featuring portraits made in Cincinnati during and after the George Floyd protests. In Frank's own words these portraits were made "in a collective moment of pain and morning…" but also "show love and resilience and defiance and resolve."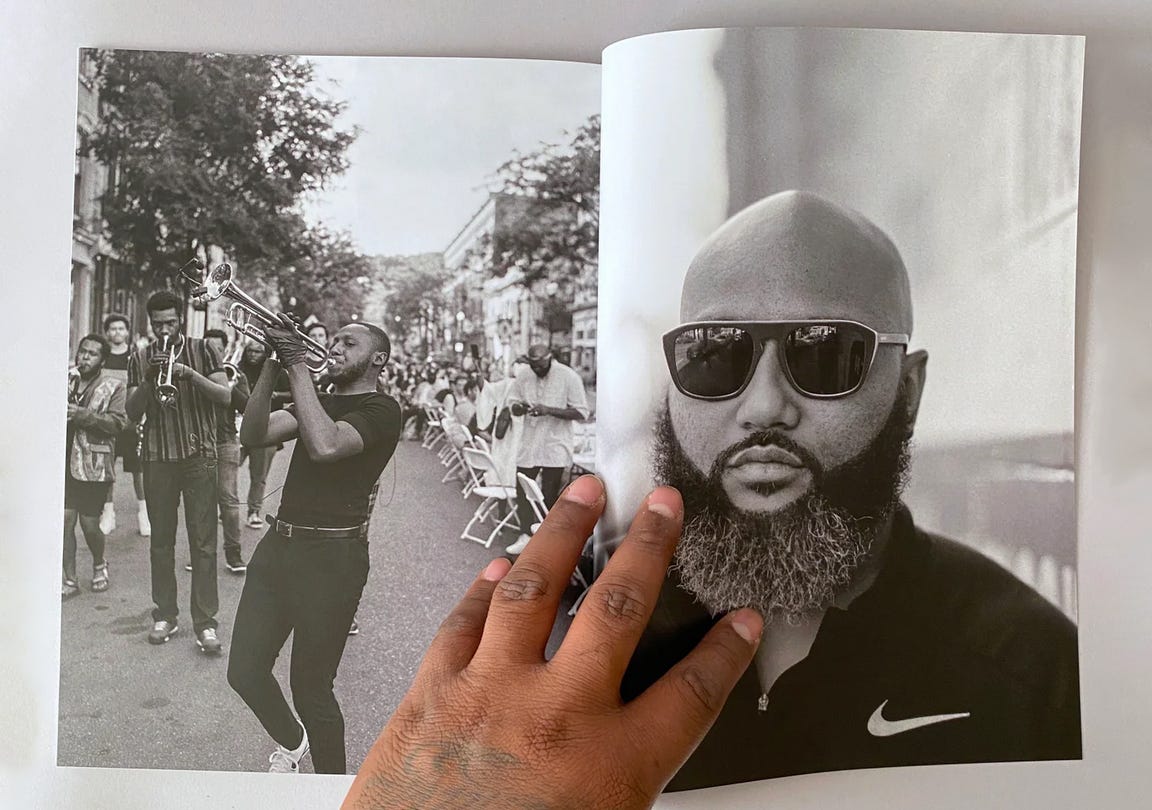 ONE winner will be randomly drawn. To enter hit reply or email me at hello@wesley.co by October 14th 11pm EST and answer the following question:
If you were assigned to create a zine in the next 3 months, what would it be about and why?
Check out Frank's work on Instagram. The proceeds of Huemanity will help Frank replace his 12 year old computer so he can use the latest photo software. Buy a copy here.
Congrats to last week's winner Yen Yap in Singapore, who will receive the very last available copy of Rosie Matheson's Boys magazine in their mailbox soon.
---
Browse the Process archives here.
Process is a weekly letter from Wesley Verhoeve, who you can also follow at @wesley.
As always, I appreciate you sharing this newsletter with your friends. It means a lot.