Process 007 ☼ How Richard Avedon Inspires Me To Think Big
Giveaway: a Nikon FA camera!
Dear Friends,
Something a little different this time. We're gonna talk about one of Richard Avedon's most unique portfolios and how it inspires me to keep pushing my work forward.
For this week's giveaway we have a beautiful Nikon camera courtesy of Camera Center of York.
Inspired By A Fable
Richard Avedon is in my top five photographers of all time. I'm not going to attempt to recount his fifty year career, or describe the way he changed fashion photography, or how he might have released the best American portraiture book of all time.
This is not a career overview, but a tightly zoomed in look at a very special 26 page portfolio published in the November 6th 1995 issue of the New Yorker. It even has an amazing title: "In Memory of the Late Mr. and Mrs. Comfort, a fable by Richard Avedon".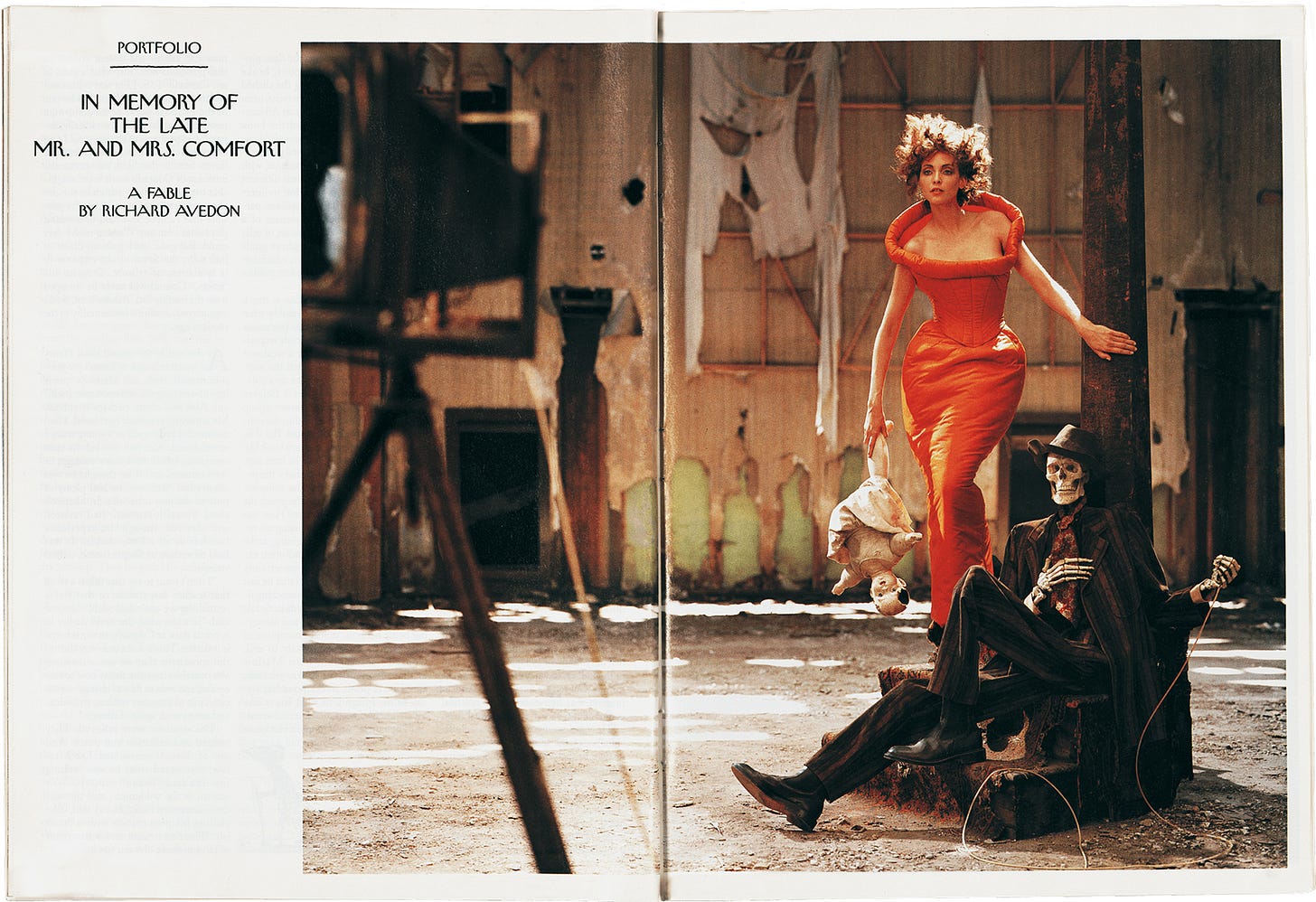 It a unique portfolio both for it's use of color, Avedon was known for his black and whites, and the fact that he had long moved away from fashion photography in lieu of socially engaged large format portraiture. It was such a special occasion that the New Yorker's cover read: "Richard Avedon returns to fashion — a special color portfolio".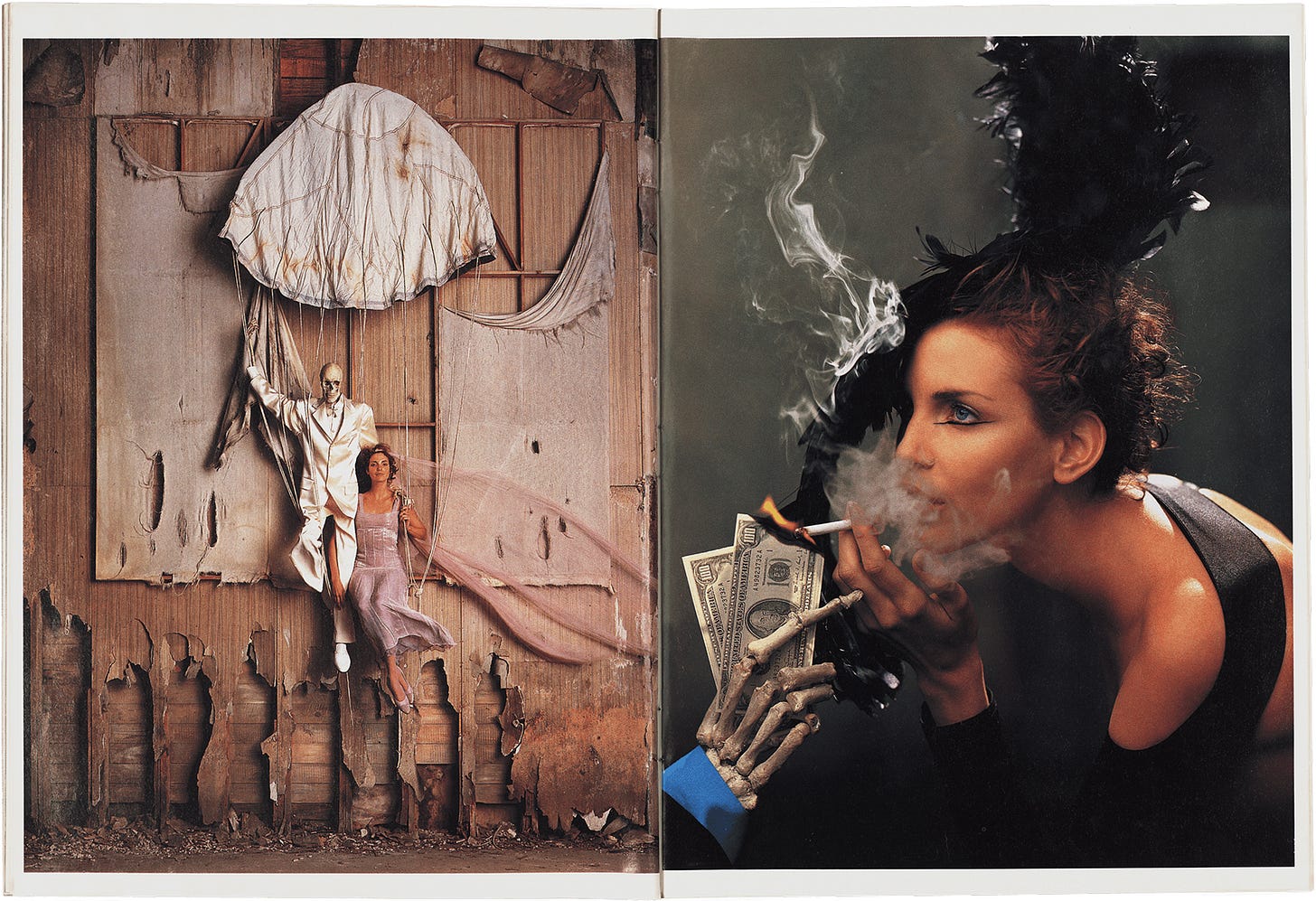 This portfolio rocked my photographic world when I first saw it. The scope of the sets, the imaginative vision, the layered storytelling, all of it. Seeing a true master crank out a masterpiece in a genre he had previously left behind was like Michael Jordan coming back after retirement and winning another title. (Y'all watched The Last Dance I take it? Incredible.)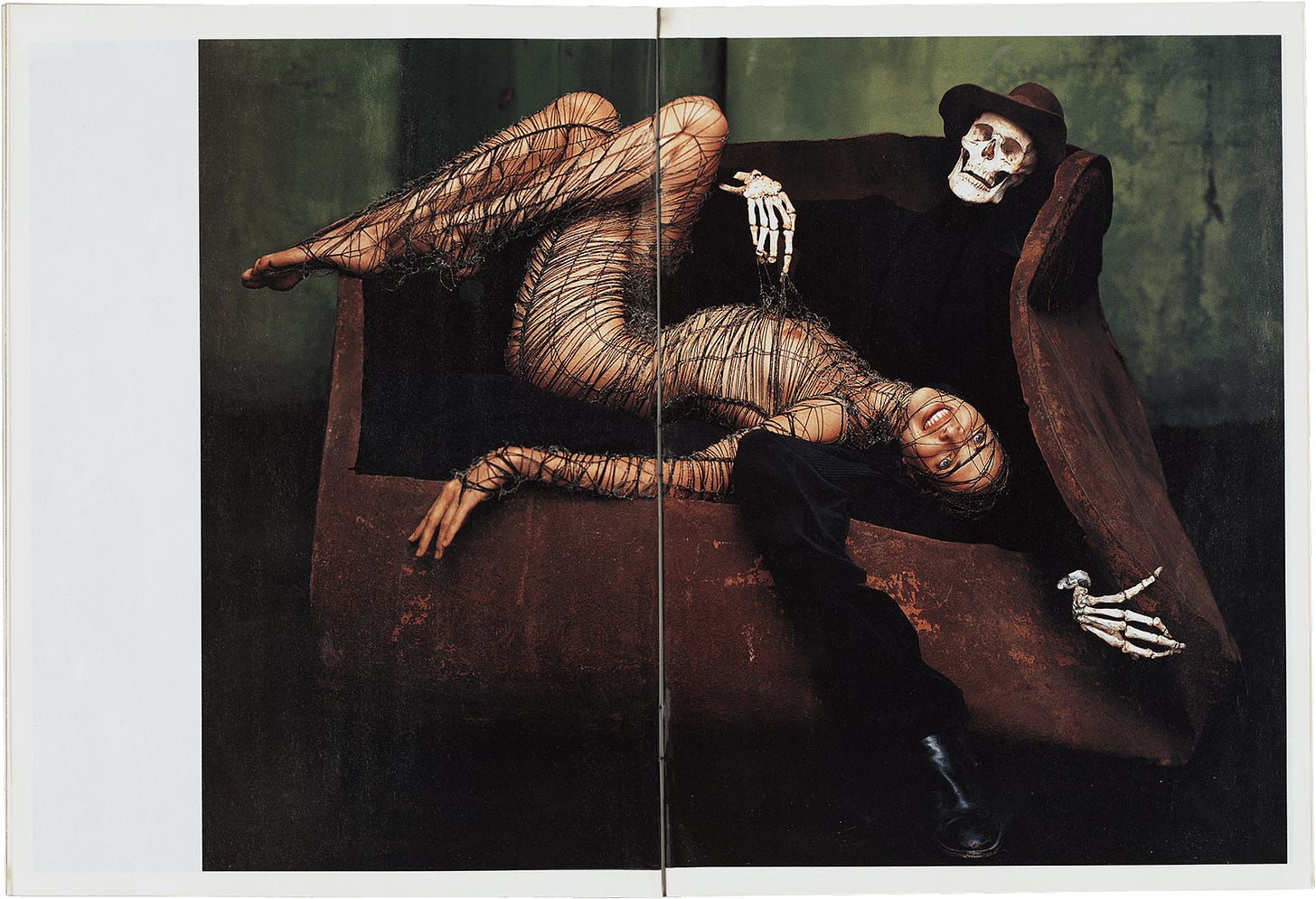 The entire set was shot with an 8x10 large format camera giving us a tremendous amount detail. The film used was likely Ektachrome E100s slide film, which creates that gorgeous feeling of light shining at us from behind the photos. The model featured in this portfolio is Nadja Auermann, one of the legendary 1990s supermodels. She was also one of Peter Lindbergh's main muses.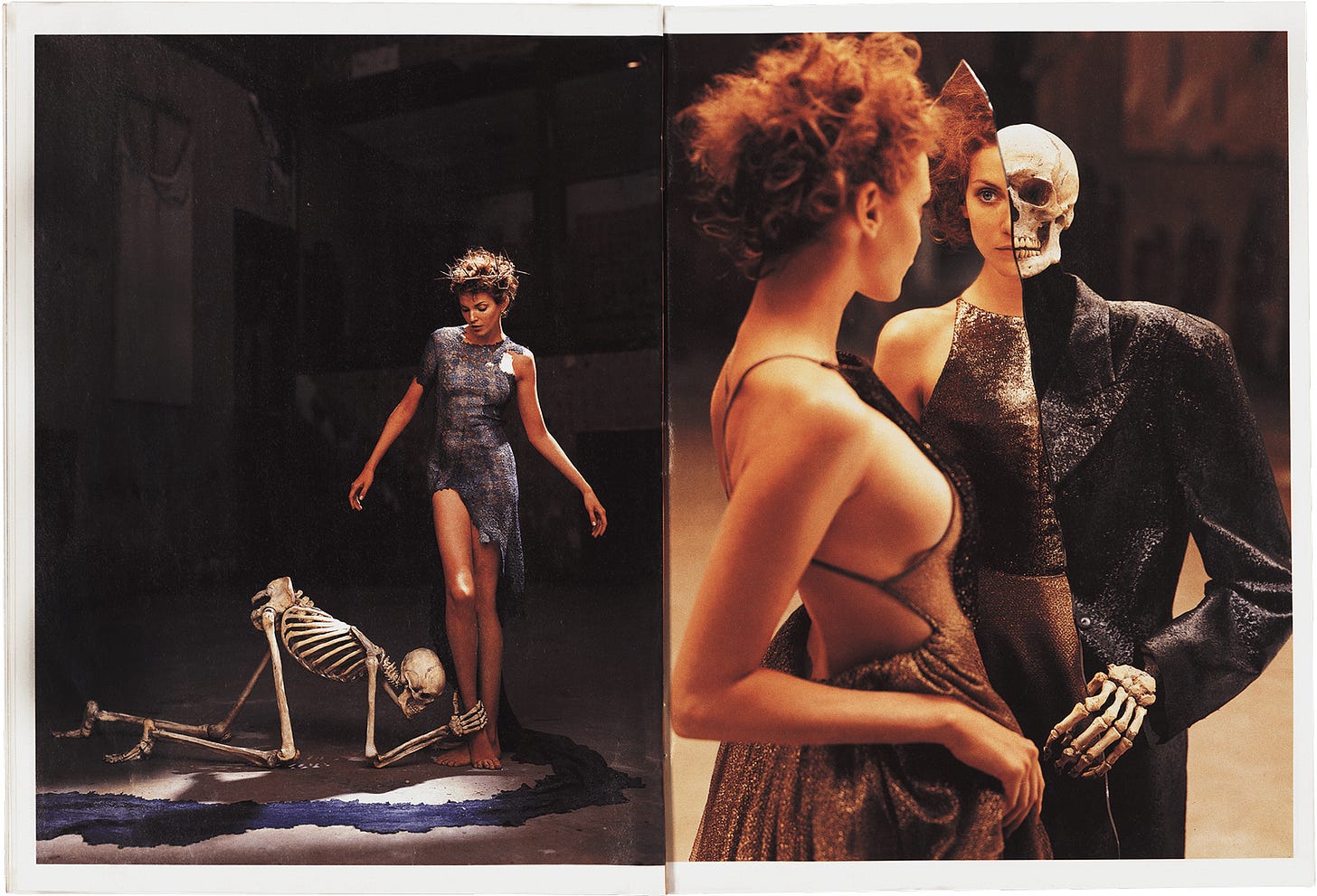 Something else that's unique about this portfolio is that it's incredibly photographer centric. It's unmistakenly a story by and about Avedon. While it's a fashion portfolio in name, it's much more centered around the photographer than the fashion designers whose clothes are being showcased. What makes this even more unusual is that all the clothes featured were designed by a collection of nearly every top designer of the era, including Gaultier, Dolce & Gabbana, Chanel, Donna Karan, Galliano, McQueen, Versace, Armani, and more. Who but Avedon could pull that off?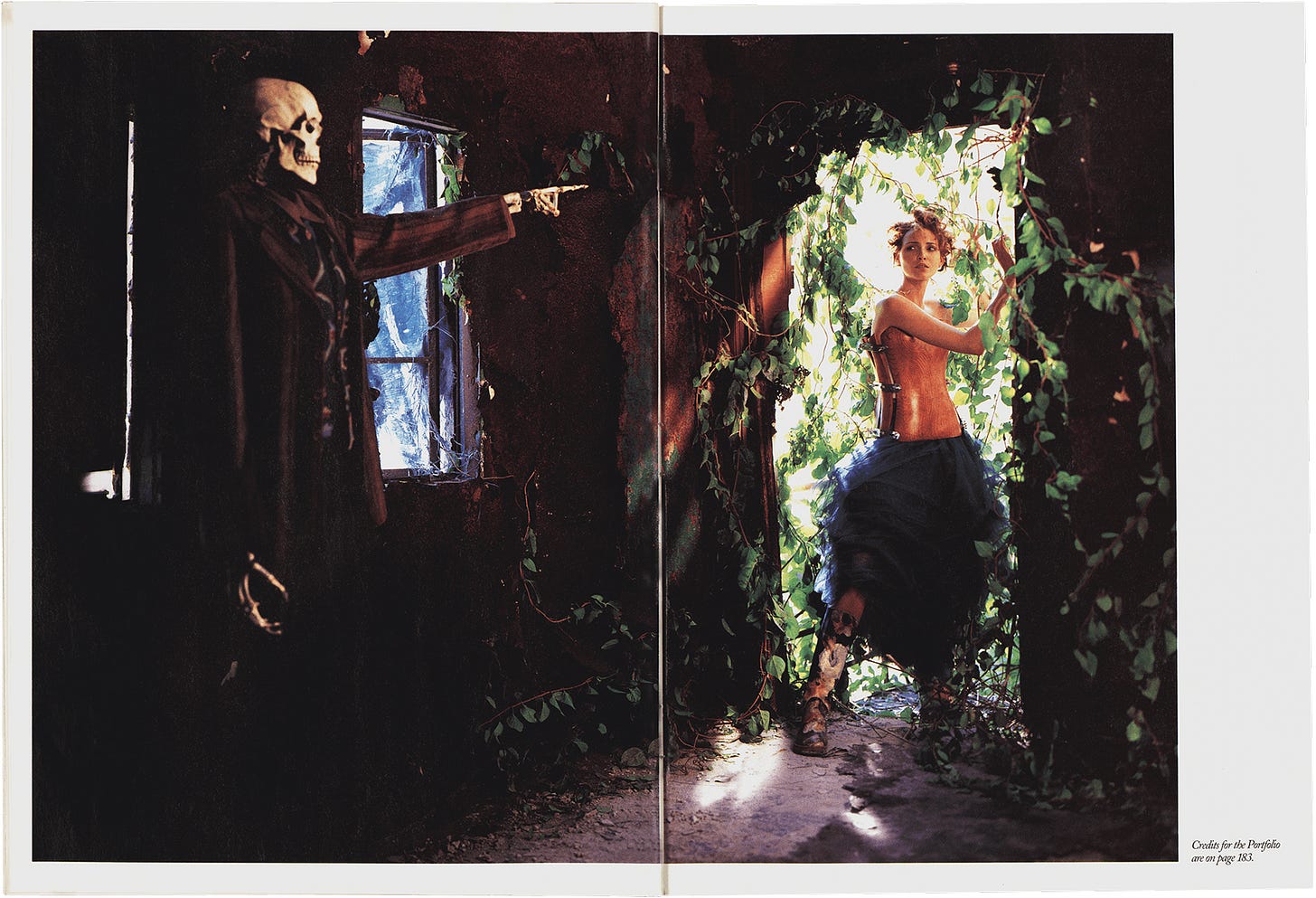 Inspiration Takeaways
I revisit this portfolio every month. It inspires me and also gives me permission to keep pushing the development of my voice as a visual author.
A few of my takeaways:
The level of ambition of this portfolio is astounding and it makes me want to think bigger and more conceptually. Most of my work has one or two layers and this work motivates me to push it into a three dimensional realm.

It makes me want to try new things and explore different formats. I have been shooting mostly black and white medium format work for the past year. I should explore 4x5, digital crop sensors, and lots of other ideas.

I love the idea of revisiting a past style or project. Avedon's temporary return to fashion allowed him to imbue this portfolio with all the lessons and techniques he learned during his time away. It shows and is much richer for it.

Make creative choices on a portfolio basis. The fact that it's not a forever choice makes it easier to commit to an experiment, which can lead to creative growth and discovery. For example, my upcoming Notice book was shot as a project with specific perimeters and creative goals: daily photo walk, paying attention to surprising details, high contrast images, mystery and humor, document this period in a way that doesn't center around people. Giving myself permission to experiment gave me a huge boost of inspiration without overthinking it. "These choices are what this project is about! It doesn't have to be forever."
That's it for this week. If you have time for a photo walk today, go out and switch up your style in some sort of way. Just for today, let go and experiment.
Next week I will share my three most common pieces of portfolio feedback, and three ways to develop your creative voice. And another rosey giveaway of course.
Autumnal in Amsterdam,
Wesley
PS To see the full Avedon portfolio visit the New Yorker archives (subscription required) or the beautiful Avedon Foundation website. For those of you with an iPad I also highly recommend the Avedon app. Endless inspiration.
---
Process Camera Giveaway!
The good folks at Camera Center of York generously made available this handsome Nikon FA camera, which review GOAT Ken Rockwell described as "the most advanced manual-focus camera ever designed by Nikon".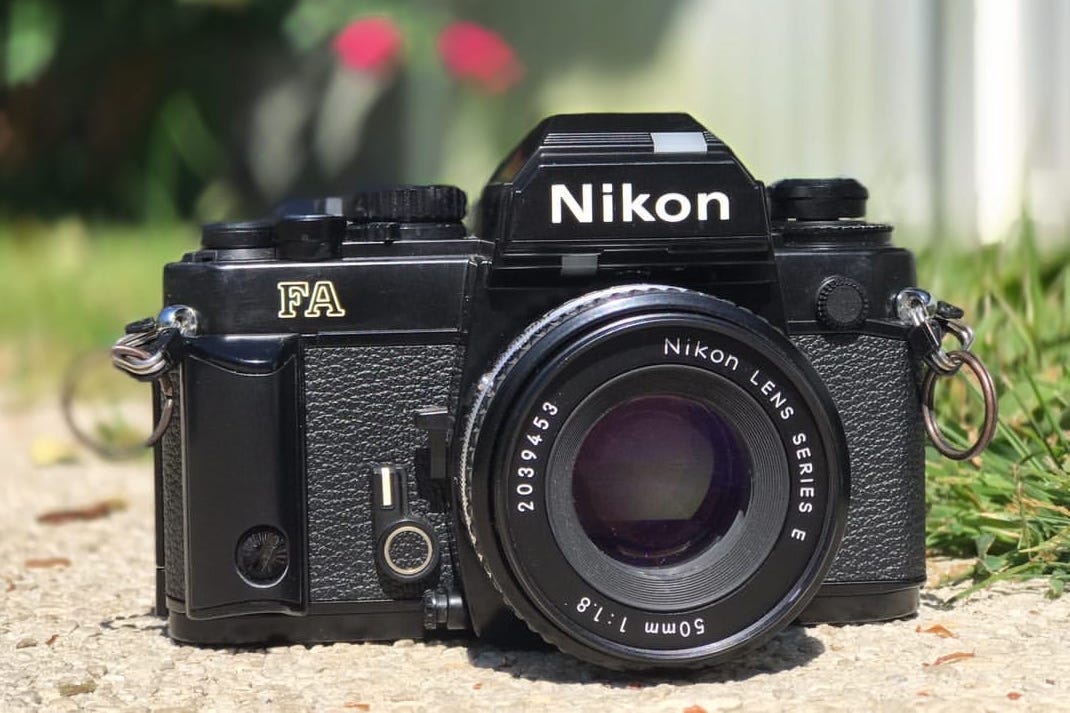 To enter hit reply or email me at hello@wesley.co by October 1st and answer the following question:
Which project would you love to work on next and what is one thing holding you back from doing so?
Process subscribers only. One winner will be randomly drawn and notified.
Make sure to check out Camera Center on Instagram and visit their online store for used cameras, lenses, printing, film, and newly discounted dev/scan services.
Congrats to last week's winners: Andris Dzeguze (Miami), Collin Tang (San Jose) and Ethan Delgado (Gibraltar) will all be received this gorgeous Jake Wangner print in the mail!
---
Browse the Process archives here.
Process is a weekly letter from Wesley Verhoeve, who you can also follow at @wesley. That's me, not sure why I went all third person there for a sec.
As always, I appreciate you sharing this newsletter with your friends. It means a lot.