Discover more from Process by Wesley Verhoeve
"Process" is a weekly newsletter about photography and finding your unique creative voice.
Over 8,000 subscribers
Process 004 ☼ How To Organize and Archive Your Photos
The visceral thrill of photo file management
Dear Friends,
I'm back! Today we're going to talk about How To Organize and Archive Your Photos.
But before we get organized together, here's what I've been up to for the past few months, besides avoiding writing this newsletter (I'm working on getting better at writing so it's a bit of a forcing myself to get to this, even though I love doing it… you know what I mean).
Anyways -
I've been making a photo book, and I'm really excited about it. It will be called Notice.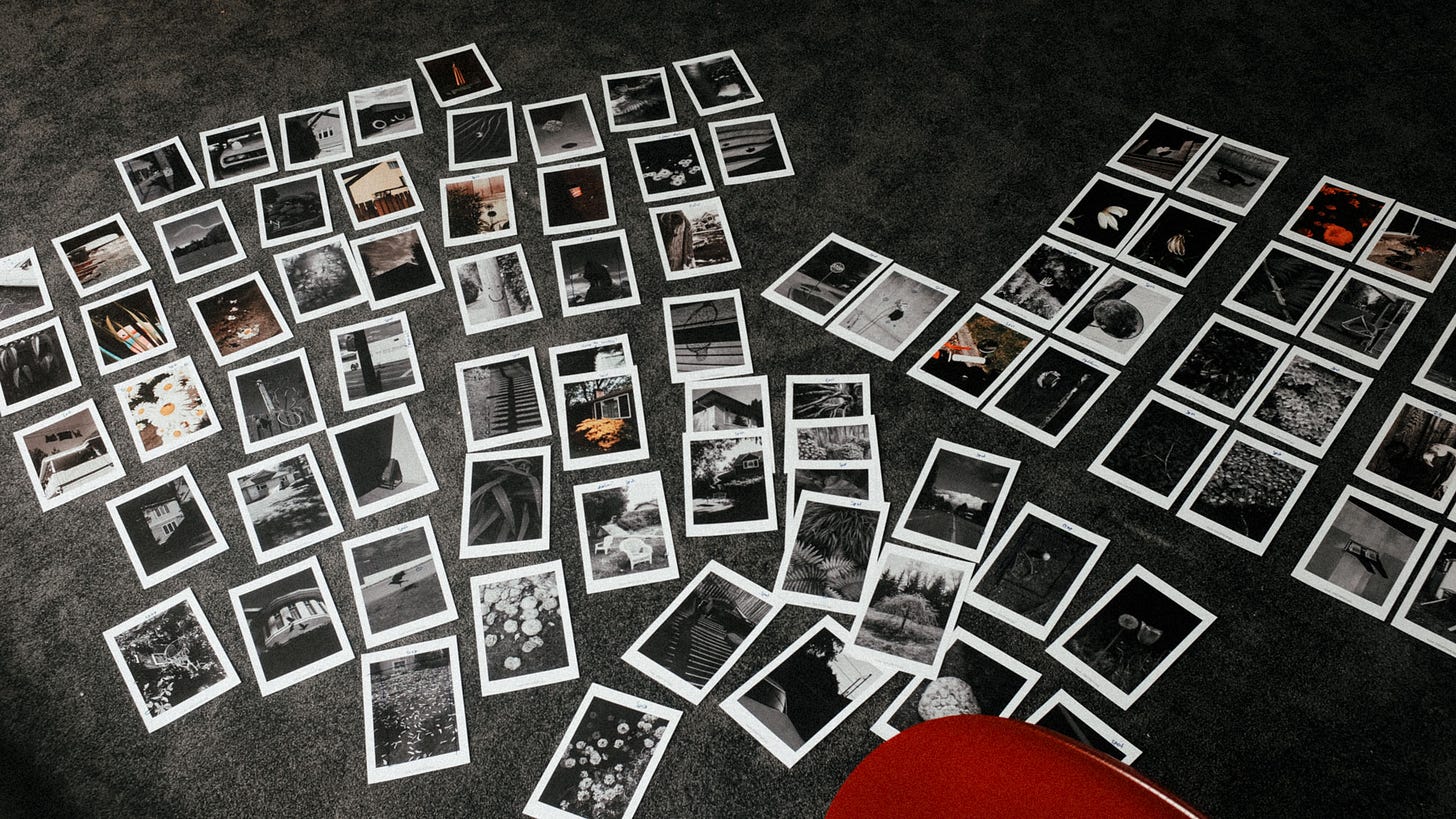 For 99 consecutive days I spent 2 to 3 hours walking around a small Vancouver neighborhood taking photos of the bits of beauty that I might have missed pre-pandemic. It was a slower and more intentional way of seeing and taking photos for me. On Instagram you might have seen some glimpses from these daily "Notice" photo walks.
Making a photo book has been an incredible experience so far, and I will soon start sharing every step of the process with you all here, and dive into all of this:
99 days, walking a total of 900km (or 560 miles)
280 hours of shooting
3 cameras
35,000+ images
1 worn out pair of ASICS shoes
Much more book stuff soon. Now let's talk about organization, and building an archive.
---
How To Organize and Archive Your Photos
"Archives!" It sounds so… serious? You might think: "Only important famous photographers deserve archives!" That's of course, entirely poppycock.
Pioneering visual artist Marilyn Nance once told me that she always thought of her work as important and worth archiving, because if not her, then who was going to do it? I love that point of view. It's not only true, but also empowering.
Let's take our own work seriously, even if it's made just for fun. Okay?
Whether you're working for a client or putting together a personal project, everything will be easier when you standardize the way that you name and organize your folder and files.
If you'll allow me, here's how I organize and archive my client work, and my personal work:
Client Work
A job isn't over after delivery. A commercial client might get in touch a year after we shot a successful ad campaign to see if there are more images to license. This happens frequently, and it's a nice present.
Being organized means it takes me all of five minutes to locate and share a new set of images. Not only does this save everyone a lot of time and effort, it also means the client knows that I am an organized professional, and there to help when they're in a pinch or need photos, which could lead to more jobs in the future. It also helps generate more income from the work that I have already shot, especially if it's easy and fast to license.
Below is the folder structure for a campaign I shot for Headspace, the meditation app: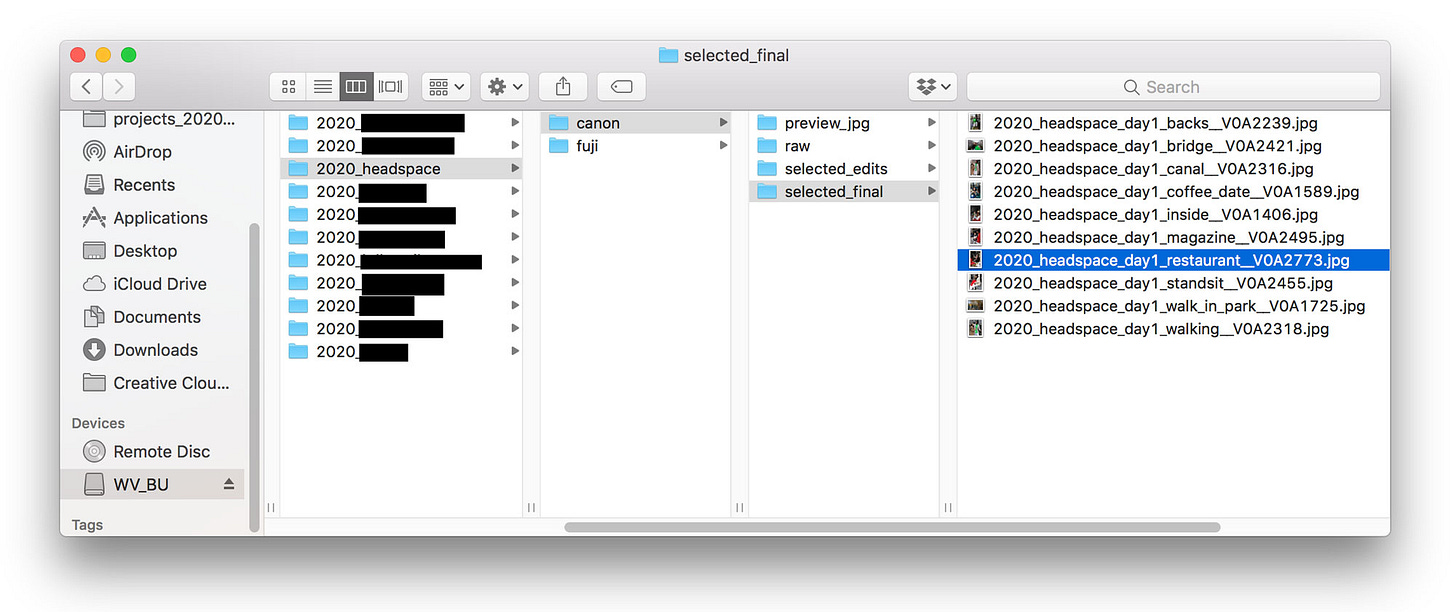 What you're looking at: The top level folder is the client name (Headspace) and the year the campaign was shot (2020). One level deeper we find separate folders for each of the two cameras used on this shoot, in this case a Canon Mark IV and a Fuji x100F. Another level down each camera folder is organized into the same four folder set up, in reverse order:
Selected Final — The final deliverables sent to the client.
Selected Edits — Edited images that didn't make the final cut.
Preview JPGs — The initial large set of images shared with the client soon after the shoot to make their first selection. Some will be edited but most won't be.
Raw Files — self explanatory
The file name for each individual deliverable photo looks like this when its a multi day shoot:
>> Year_clientname_shootday_location_originalfilename.jpg
e.g. 2020_headspace_day1_restaurant__V0A2773.jpg
Or if it's a one day shoot but the subject has multiple looks:
>> Year_clientname_look_location_originalfilename.jpg
e.g. 2020_headspace_look1_restaurant__V0A2773.jpg
Here's an outtake from the Headspace shoot, featuring Nikki and Austin with makeup by Charlotte and Banshee.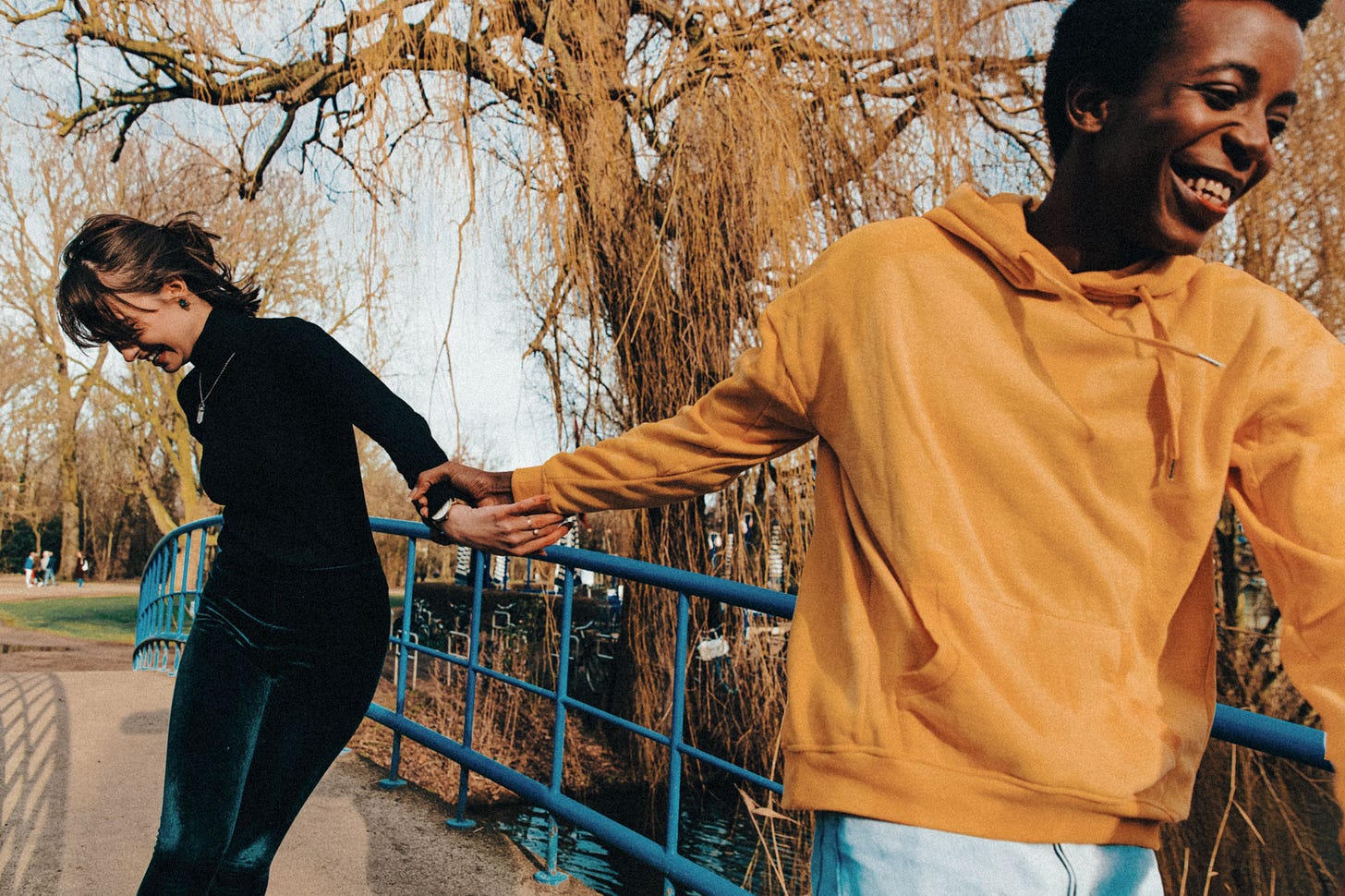 If a client comes back a year later asking to see more work, it's quick and easy to re-deliver images that didn't make the cut last time. Just hop into the Preview and Selected Edits folder. Usually those will actually contain several of my original favorites that just didn't happen to hit right for the client the first time around.
If the client is an editorial publication, some of the images that didn't get picked by the original client might end up in another publication later on. This is actually how I got my first ever National Geographic story! The original client didn't pick a single one of my favorite images, which I was bummed out about at the time.
Several months later an editor at Nat Geo Traveller asked if I might have unpublished images of a very hard to get to secluded mountain farm in Jamaica that they were writing about. I did, and all my favorites ended up getting picked and published in a magazine I had always dreamed of working for.

Here's one of the double page spreads from that issue: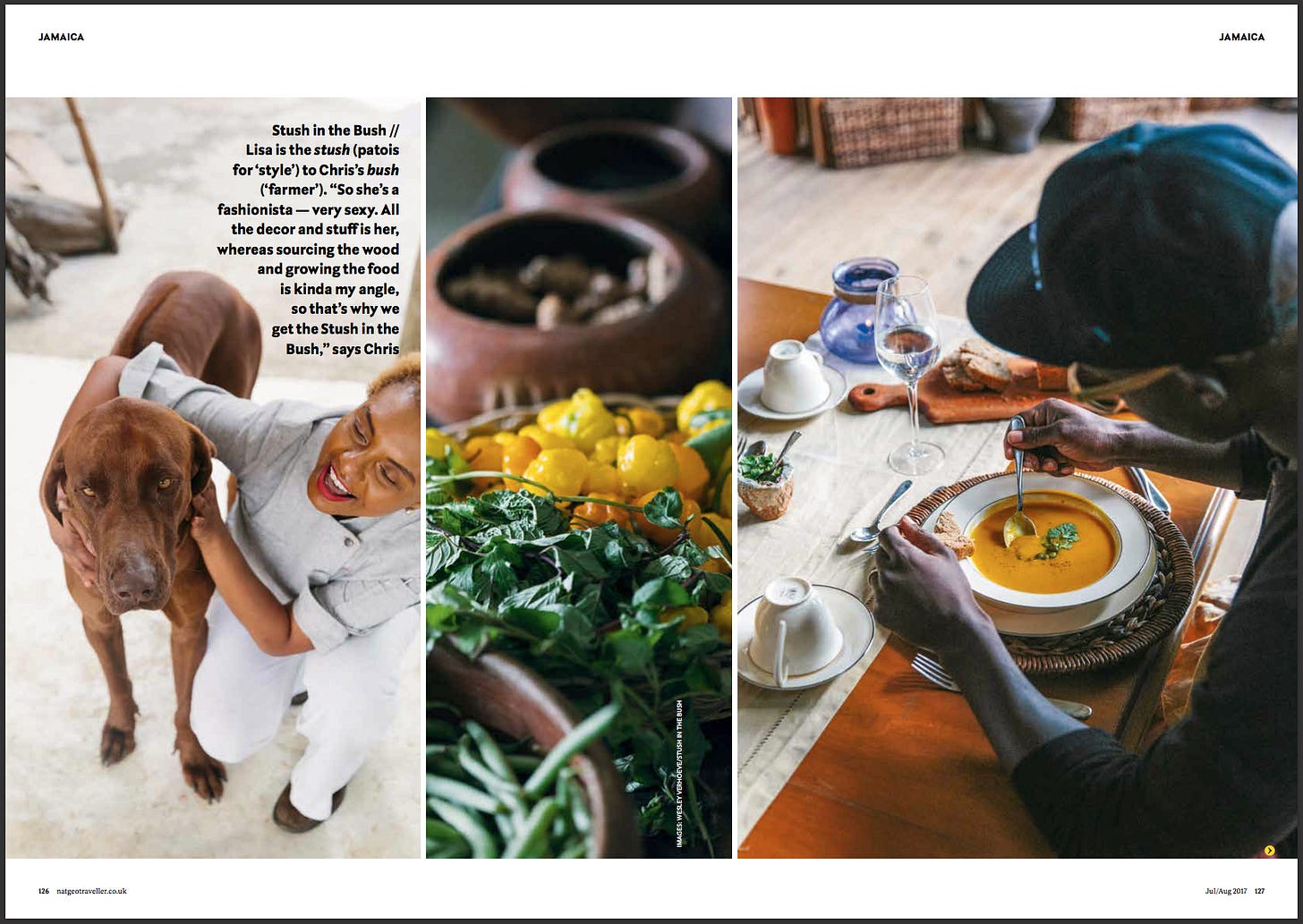 This would've been way harder if not impossible if I weren't organized. If you're ever in Jamaica (if we can ever travel again) you must visit my friends at Stush in the Bush and tell them I sent ya.
Personal Work
Most of my personal work is shot on film. I use the following system to keep all my digital scans organized: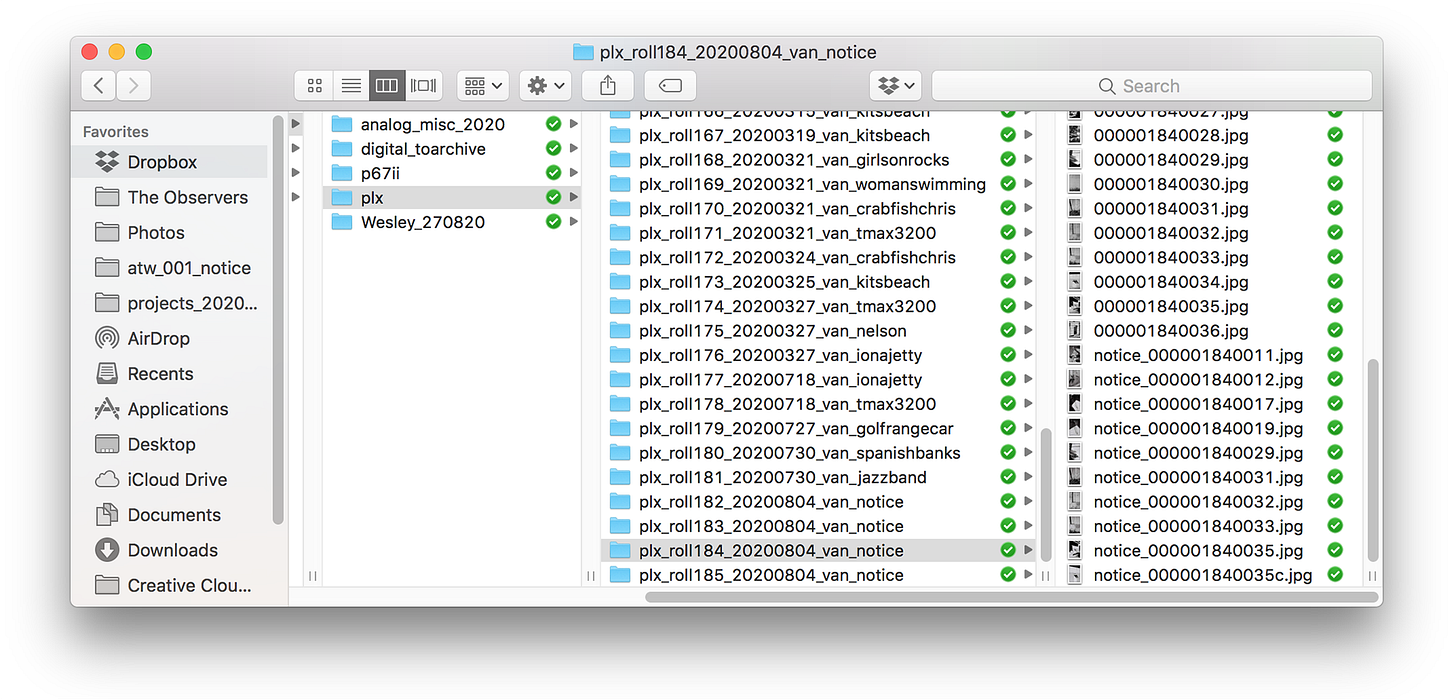 Inside of the overarching Photos > 2020 folder, I organize my analog work by camera. My two main go-to camera's are the Pentax 67ii and the Pentax LX, which each have their own folder. All work shot on various others cameras lives inside of the analog_misc_2020 folder in their own camera specific folders.
For example, the folder "2020 > plx" contains all the rolls I've shot in 2020 on my Pentax LX. Each folder name is structured as follows:
cameraname_rollnumber_date_city_shootname.jpg
e.g. plx_roll184_20200804_van_notice.jpg
By looking at the folder name you'll know this is roll 184, shot on the Pentax LX, on August 4th 2020, in Vancouver, and for the Notice project. Having all of that information accessible in one line of text makes it easy for me to find a shot, especially in combination with my roll notes.
Each photo inside of the folder is named by my favorite NYC-based (but accepting film from everywhere) photolab Bleeker Digital, and includes the roll number and the position on the roll. When I edit a shot I add the project name to the file name and the letter "c" at the end if I've cropped a shot. All of this is done to speed up and simplify any searching I might have to do later on.
So there we have it! My strategy for organizing and naming my folders and files.
I recommend that you think of this as a starting point and adjust the process for your own needs. And if you feel overwhelmed because your current archives are a mess, I've been there. Just set aside a weekend to binge a podcast or audio book and re-organize your work. Not only will it be meditative once you get in the flow but future you will thank you profusely for having organized archives.
---
That's what I've got for this week. And, to make up for my silence, I already have another newsletter teed up for you next week about a test shoot where I put forty year old analog lenses on a brand new digital medium format camera. Call me Richard Dean Anderson.

Hi from Amsterdam,
Wesley
---
Process readers on why photography is important to them:
"Photography is important to me because the camera gives us a chance to be present and an opportunity to pay attention."  — Matthew Pardue (Los Angeles, CA)

"Photography is a constant reminder to appreciate every single moment of my life. Every time I see a photo I took I remember exactly how I felt when I took it." — Daniela Villareal (Mexico)
If you haven't written me yet with your answer and feel the urge, please do. It's a great way to get to know each other, and I like hearing from you. Just hit reply or email me at hello@wesley.co
---
PS The winners of last issue's give-away with BuyMoreFilm are:
Winner of the Minox 35GT: Asha Al-Khayyat in Brighton, UK
Winner of the Mystery Film Pack: Tony Dahlgren in Björkvik, Sweden.
More giveaways coming so if you haven't already:

PPS Shouts to New York Nico who has been tirelessly featuring mom and pop businesses having a tough time during this pandemic. He was kind enough to visit Bleeker Digital and did a post on them.
My pal
@wesley
told me to check in on
@bleekerdigital
today on 85 Kenmare. They have been a family run film development business for the past 21 years. Since COVID, they are operating at 50% and nearly all the other businesses on the block have gone under. Pls go support and say whattup to Anil and Nisha.
#momnpopdrop
---
Process is a bi-weekly letter from Wesley Verhoeve. Ha! Bi-weekly.
Until next time, follow along at @Wesley.
As always, if you enjoyed this note I really appreciate you sharing this newsletter with others. Let's grow our community.