Discover more from Process by Wesley Verhoeve
"Process" is a weekly newsletter about photography and finding your unique creative voice.
Over 8,000 subscribers
Process 001 ☼ Visiting Bruce Davidson
An environmental portrait shoot capturing a legend.
Wow, hello everyone. Happy 2020. Thank you for joining me for the first issue of Process. There are so many of you, all from different parts of the world and my life. Some of you I've met - many others I haven't yet.
Thank you for being a part of this conversation about photography with me.
---
Before we get into a look at the time I spent with Bruce Davidson last December, given that this is the first ever Process note, I'll start with my photographic origin story.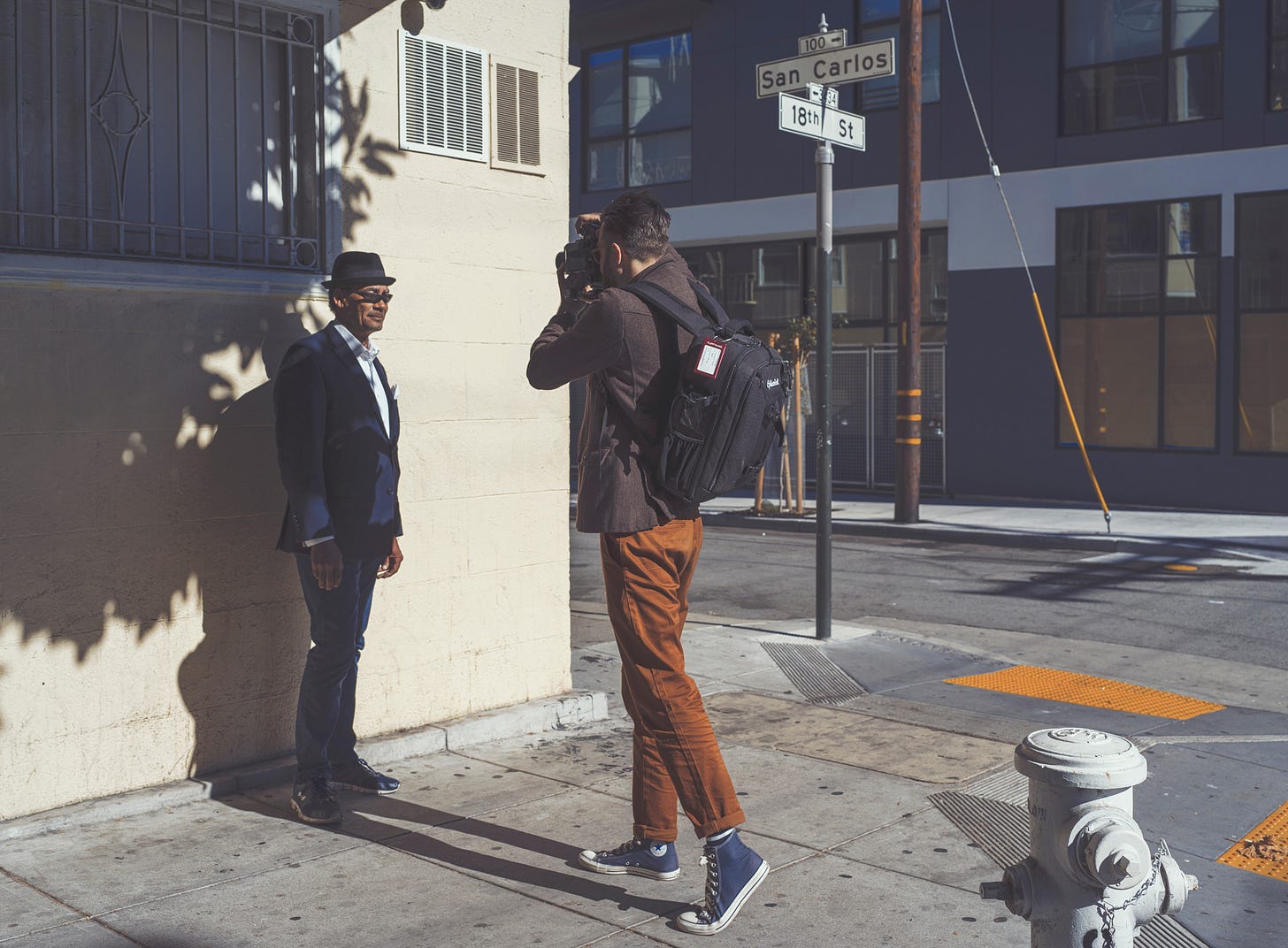 Origin Story
I grew up as the son of a seamstress and a photographer in a small, rural town in the Netherlands. My dad handed me his Canon AE-1 when I was 5 years old. I rewarded his trust by attempting to photograph a "sand storm" by throwing a hand full of sand into the air and snapping away. For my ninth birthday, my parents gave me a camera of my own, a Praktica with a Kodak neck strap. I still have it.
Fast forward - I graduated university with a sensible business degree followed by a slightly less sensible u-turn when I moved to New York City to pursue a career in music.
After some time, I noticed that many of my creative friends were moving away from New York City. I decided to investigate why - camera in hand. This became a project called One of Many. I took portraits of 600 creatives across twelve cities in the United States and told their stories.
I self-published One of Many around the time when creative directors shifted away from featuring models in commercial campaigns to featuring real people and their stories. This meant that I got lucky - my approach was what everyone was looking for. People noticed One of Many, and I got hired to shoot similar work for magazines and commercial campaigns.
Two years after One of Many and ever since I have been a full-time photographer. I specialize in portraiture - specifically environmental portraits (photos of real people in the places that reflect who they are). A large part of my work is shot on film, utilizing natural light in different ways. I have worked with corporate clients like LinkedIn, Hanes, Airbnb, and Squarespace. My photos have appeared in publications like National Geographic Traveller, Wired, Eater, and others.
I have also curated 98 exhibits for the International Center of Photography as part of a series that I created called Projected, which features emerging voices in concerned photography. In 2018 I co-created The Observers, a series of conversations with visionary photographers who recommend their favorite photo books.
That was a short overview. I left out a lot of what went into getting from my first break to going full time, and everything that happened in my career since then. This will be covered in future Process notes. It was important to me that you knew about the Praktica.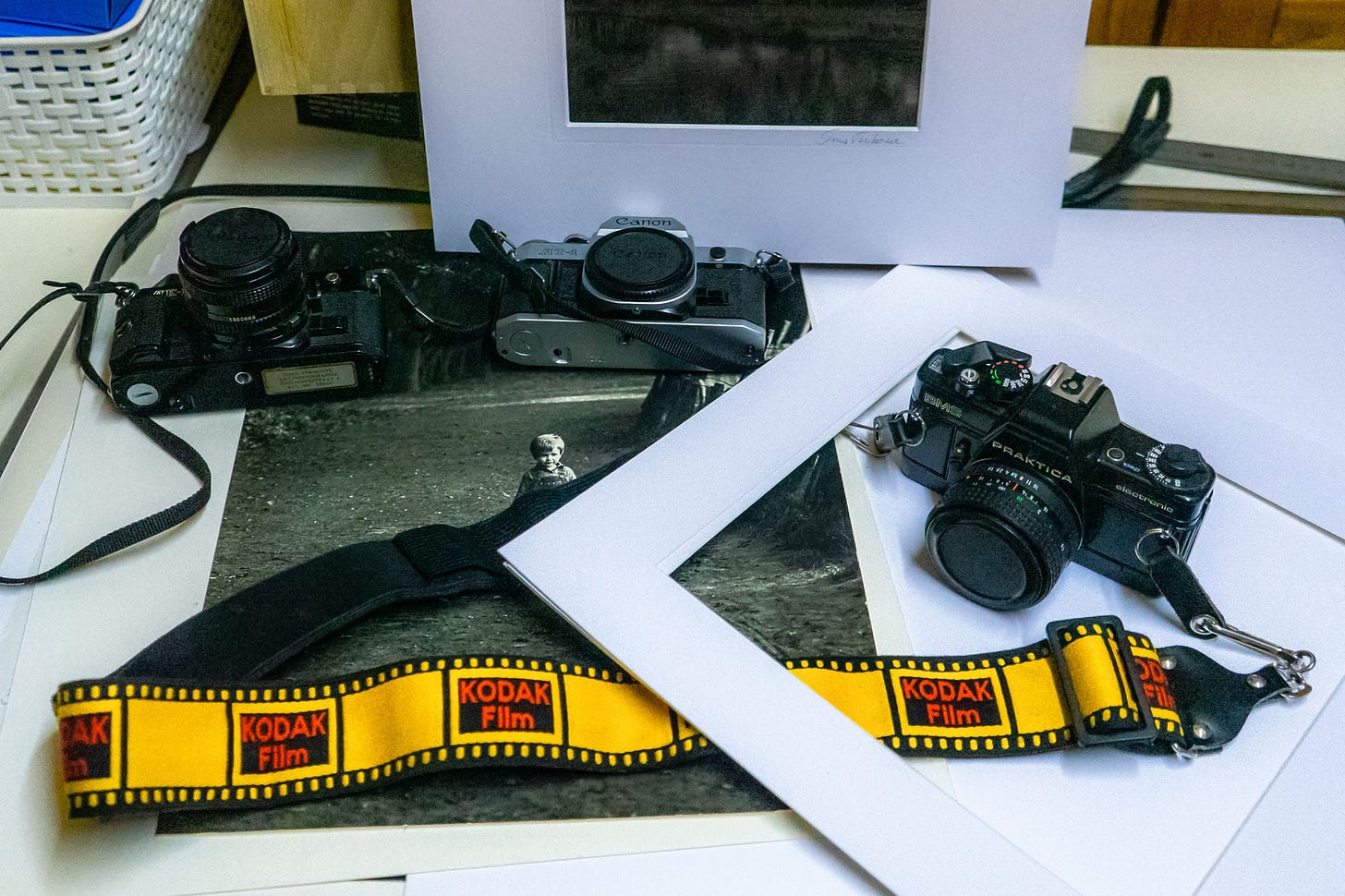 ---
Visiting Bruce Davidson
Now, I'm excited to share with you the time I spent with the legendary Bruce Davidson: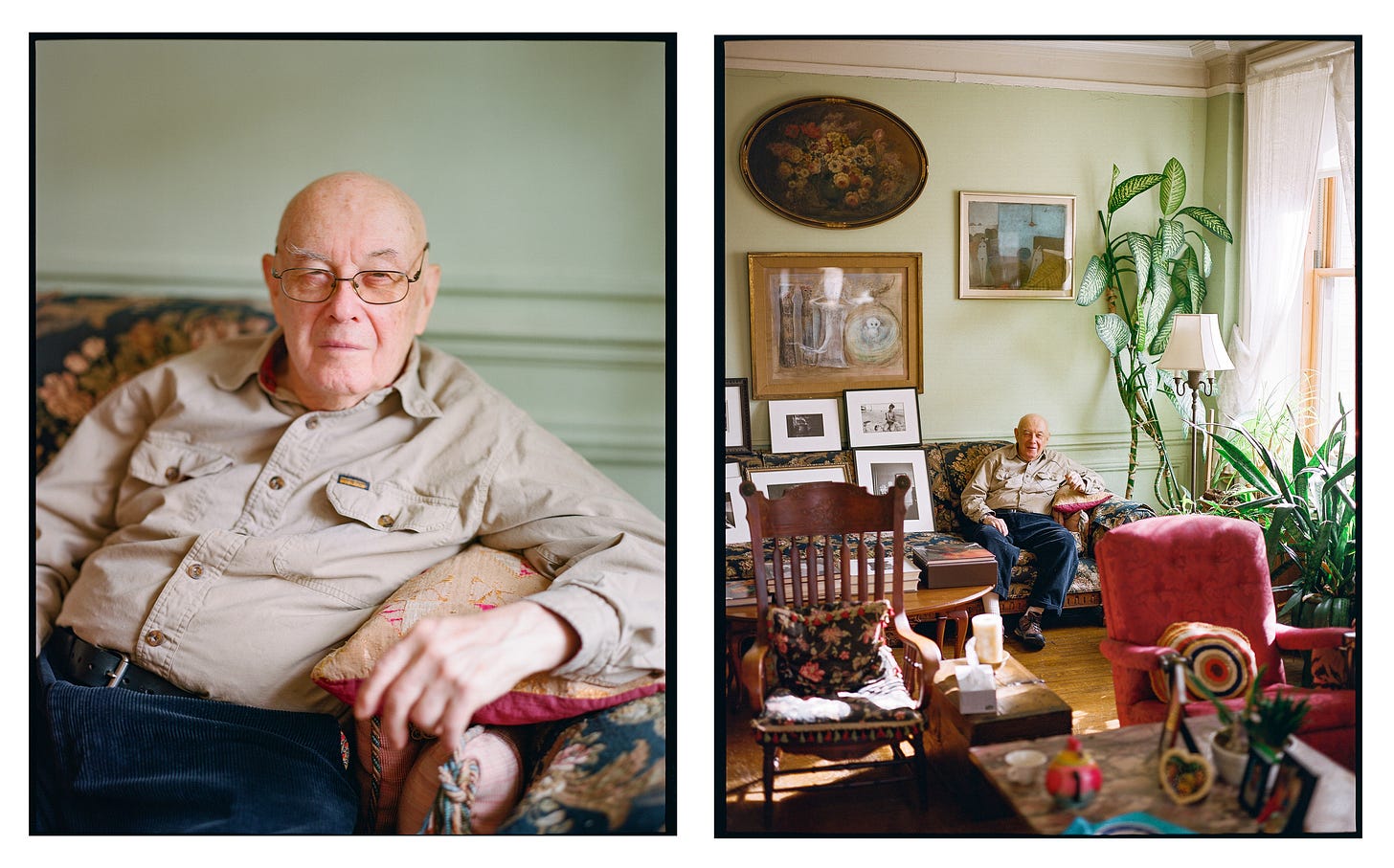 Bruce Davidson is one of my greatest influences. I interviewed him over email in late 2018 for The Observers.
About a year and change later, I was fortunate to visit him at his home in New York City, thanks to the kind help of Mr. Davidson's archivist Donna Ranieri. After tea and cookies, Mr. Davidson gave me a tour of his darkroom. He told delightful stories and had a twinkle in his eye. Even at 86 years old, it brought him childlike joy to be in the darkroom, which was so inspiring to see. (To watch a short video of this darkroom tour on my Instagram.)
Next, I had the opportunity to take his portrait. We walked around his apartment to scope out the light situation and decided on the living room as our location. It was the most charming room, and conveniently the only room with sufficient light on a gloomy day. I only brought 400 ISO film and I didn't want to push it.
We started with some shots of Mr. Davidson seated on his couch surrounded by gorgeous prints of his work and some beautiful plants. There was a window to his right, which provided me with enough light to capture the atmosphere.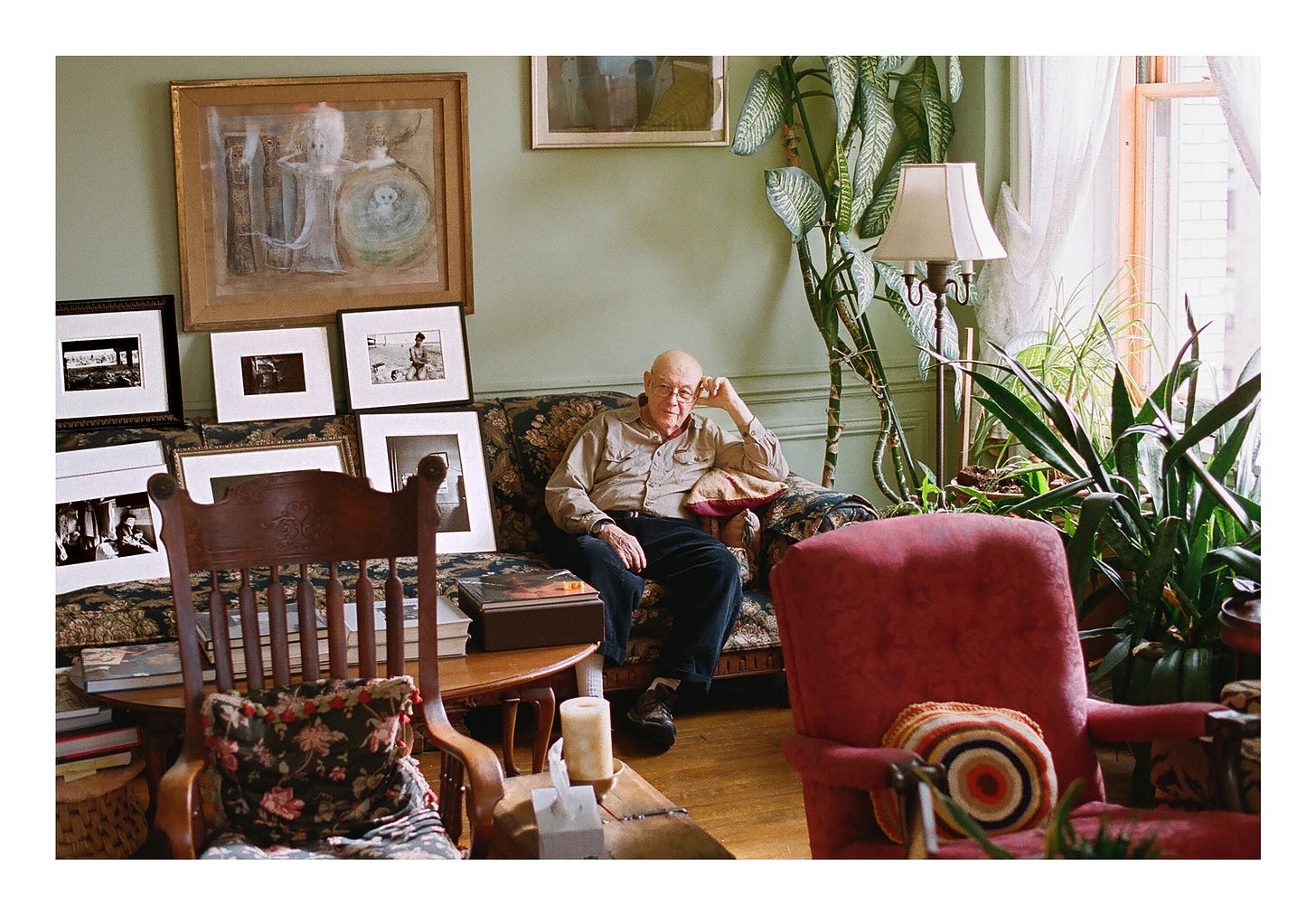 For my camera set up I switched back and forth between two formats: my Pentax LX with a 50mm 1.2 lens and my medium format Pentax 67ii with a 105mm 2.4 lens. Both of these lenses are nearly equivalent in focal lengths when adjusted for format so I could create a similar look. (Below: first shot on the LX, second on the 67ii)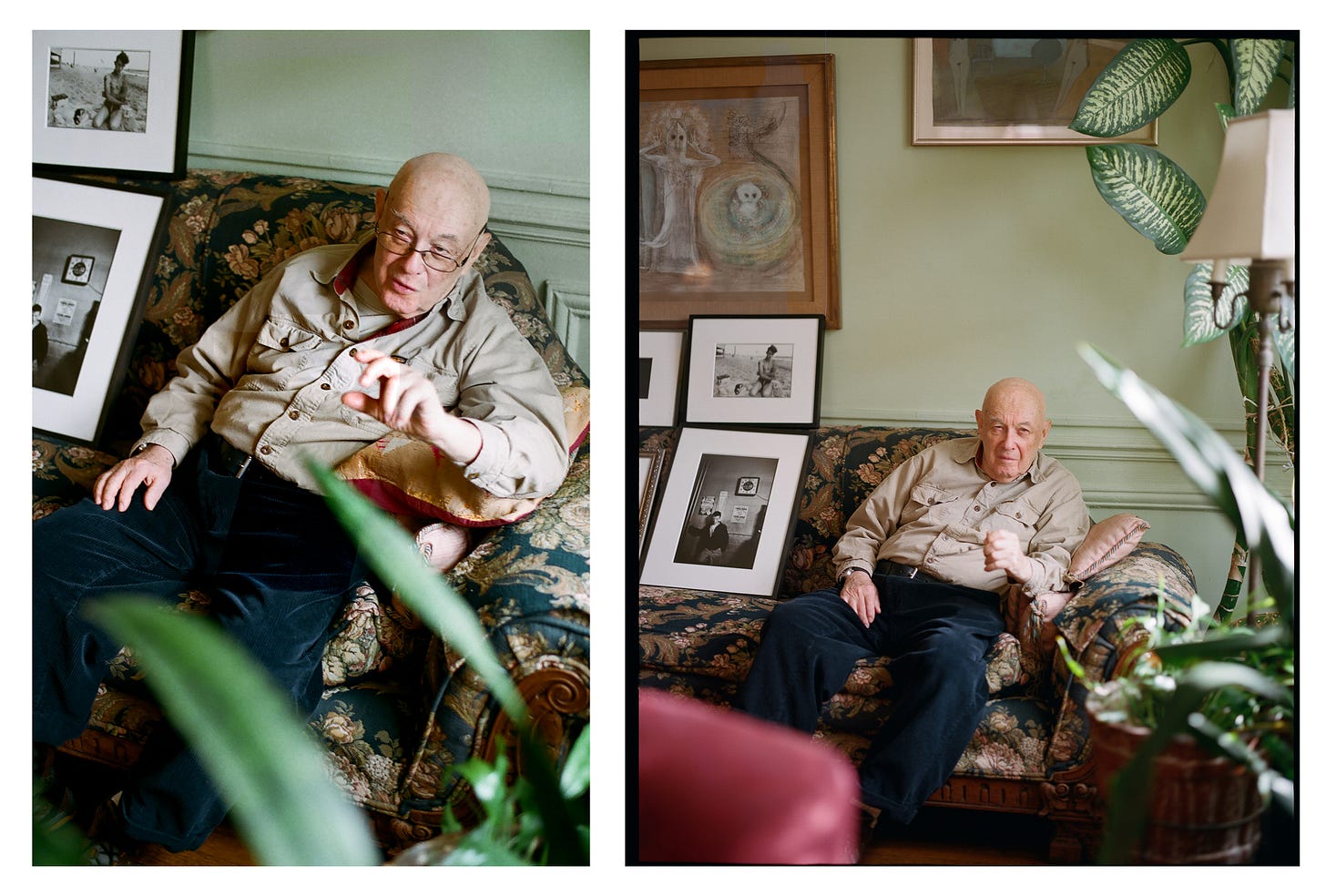 After two rolls of Kodak Portra 400 per camera I switched to Tri-X to shoot in black and white. On the other side of the room was a piano with a large window that we used as a second location to shoot some portraits of both Mr. Davidson and his lovely wife Emily. I metered for the highlights to create some extra deep blacks, which generated some moody images that I really enjoy.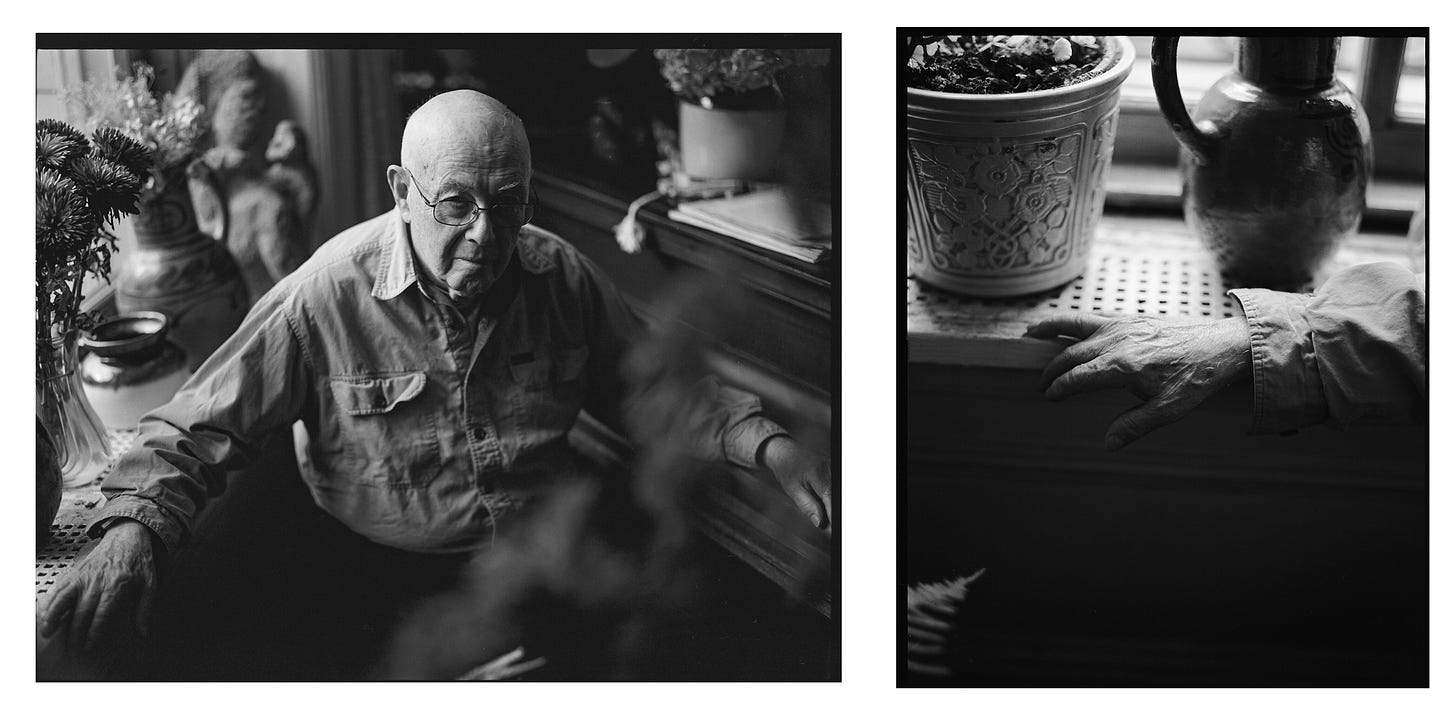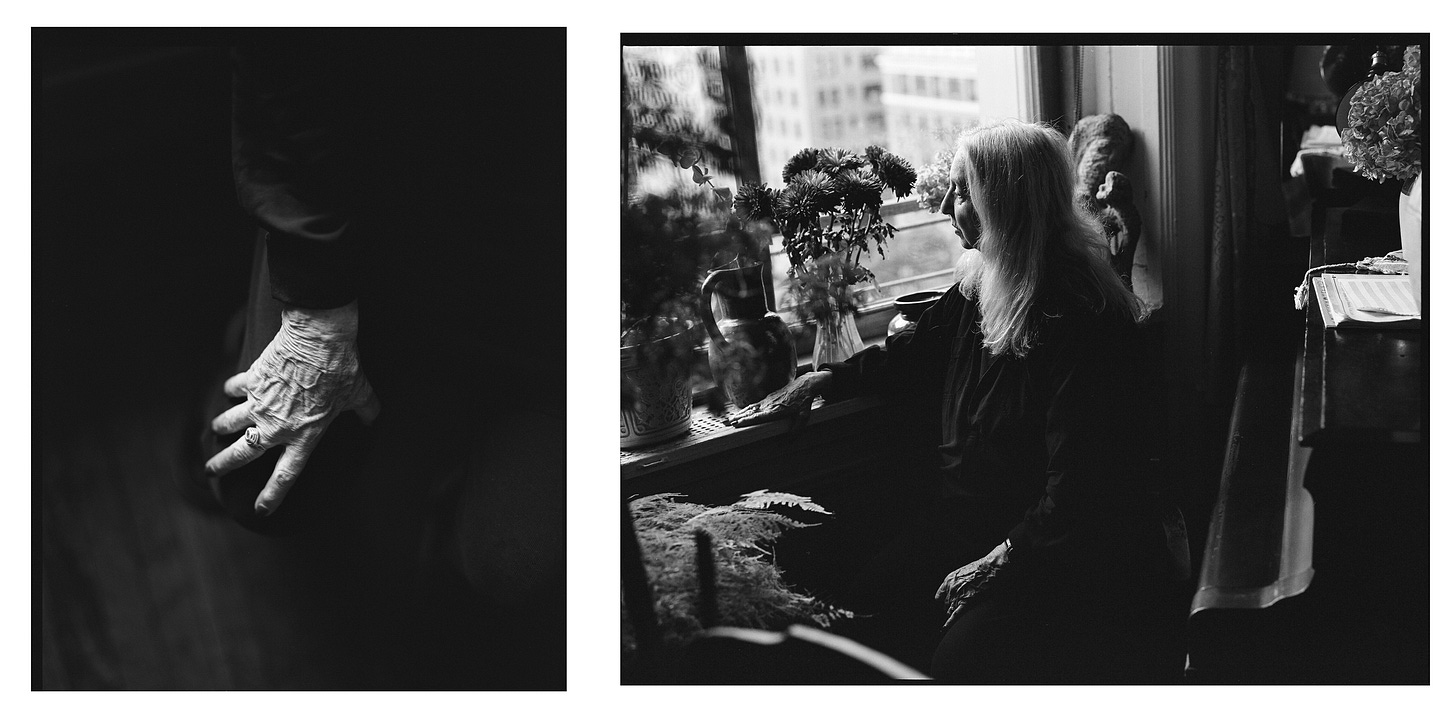 After a few solo pictures of Mr. and Mrs. Davidson in the piano nook, I switched to a wider 55mm lens on the Pentax 67ii to capture their beautiful partnership together. There was so much tenderness there. I continued metering for the highlights, which I will get back to in a bit. (Below: first shot on the 67ii with 55mm lens, second on the LX)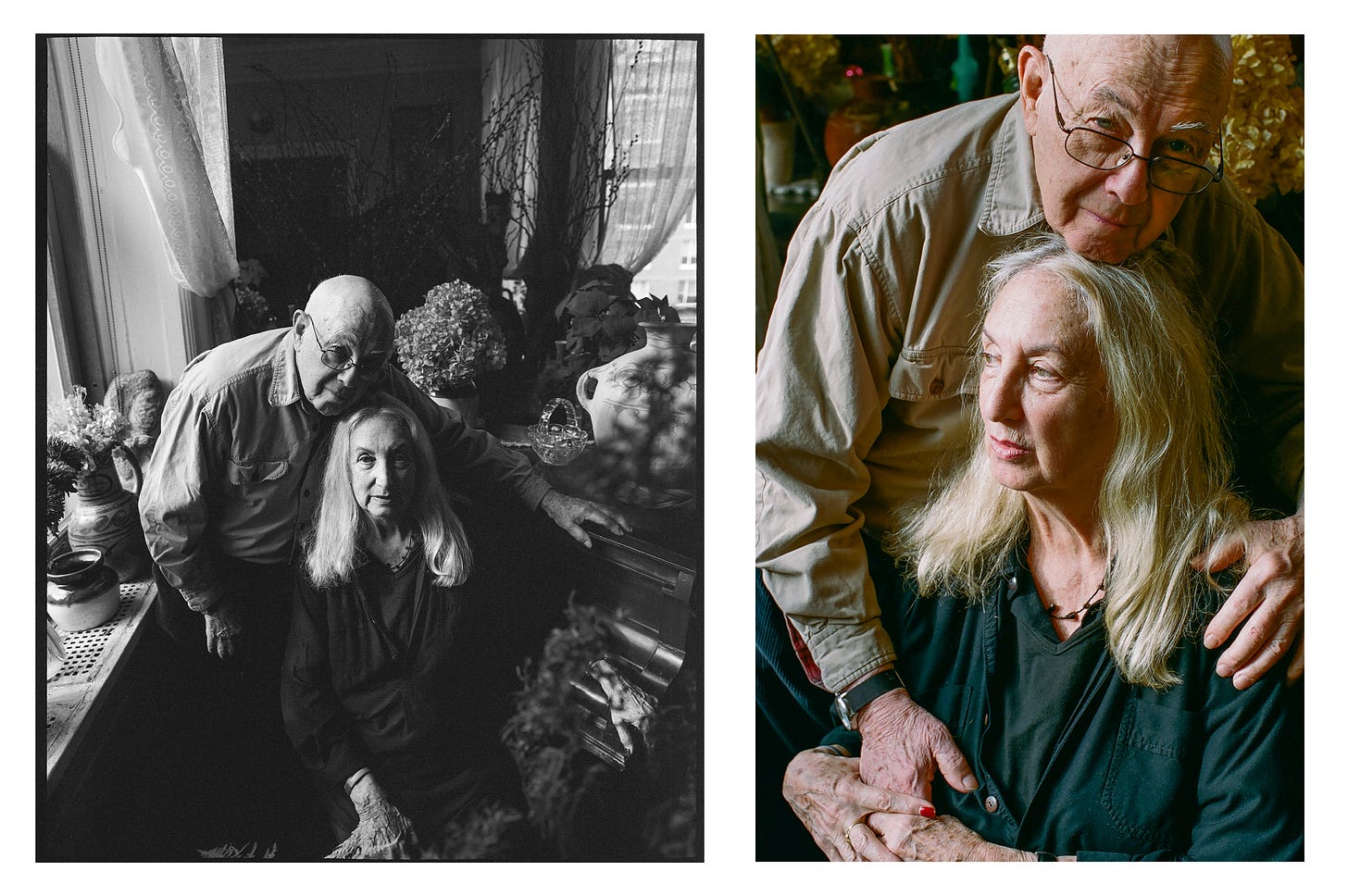 Once we wrapped up the couple portraits, Mr. Davidson and Donna had to get ready for an appointment. I finished my last roll by focusing on details around the house. The Davidsons have lived in this apartment for over five decades. It was truly rich with atmosphere, beautiful furniture, and art. I've learned over the years that a place can be a character on its own.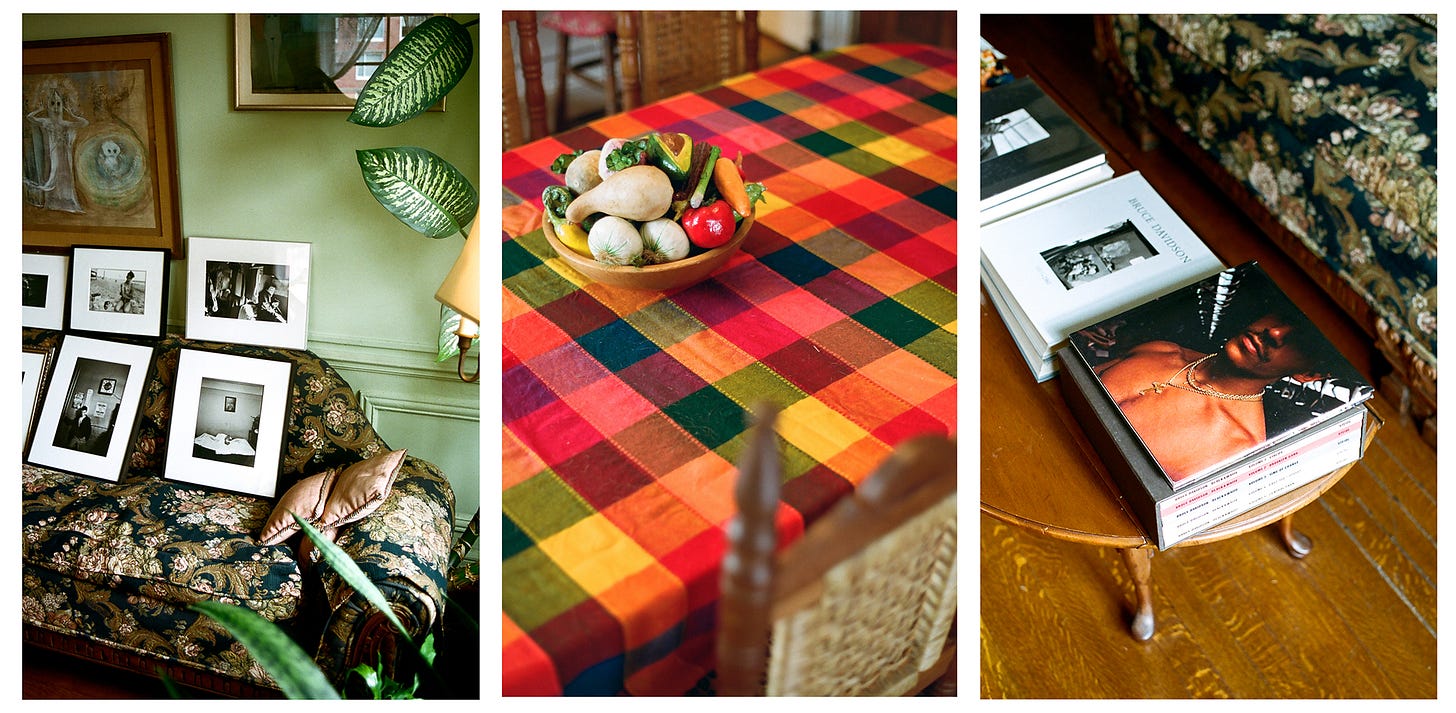 On my way out of the building, I grabbed a few portraits of the incredibly classic New York City doormen James and Alvarez, both fans of Mr. Davidson's work.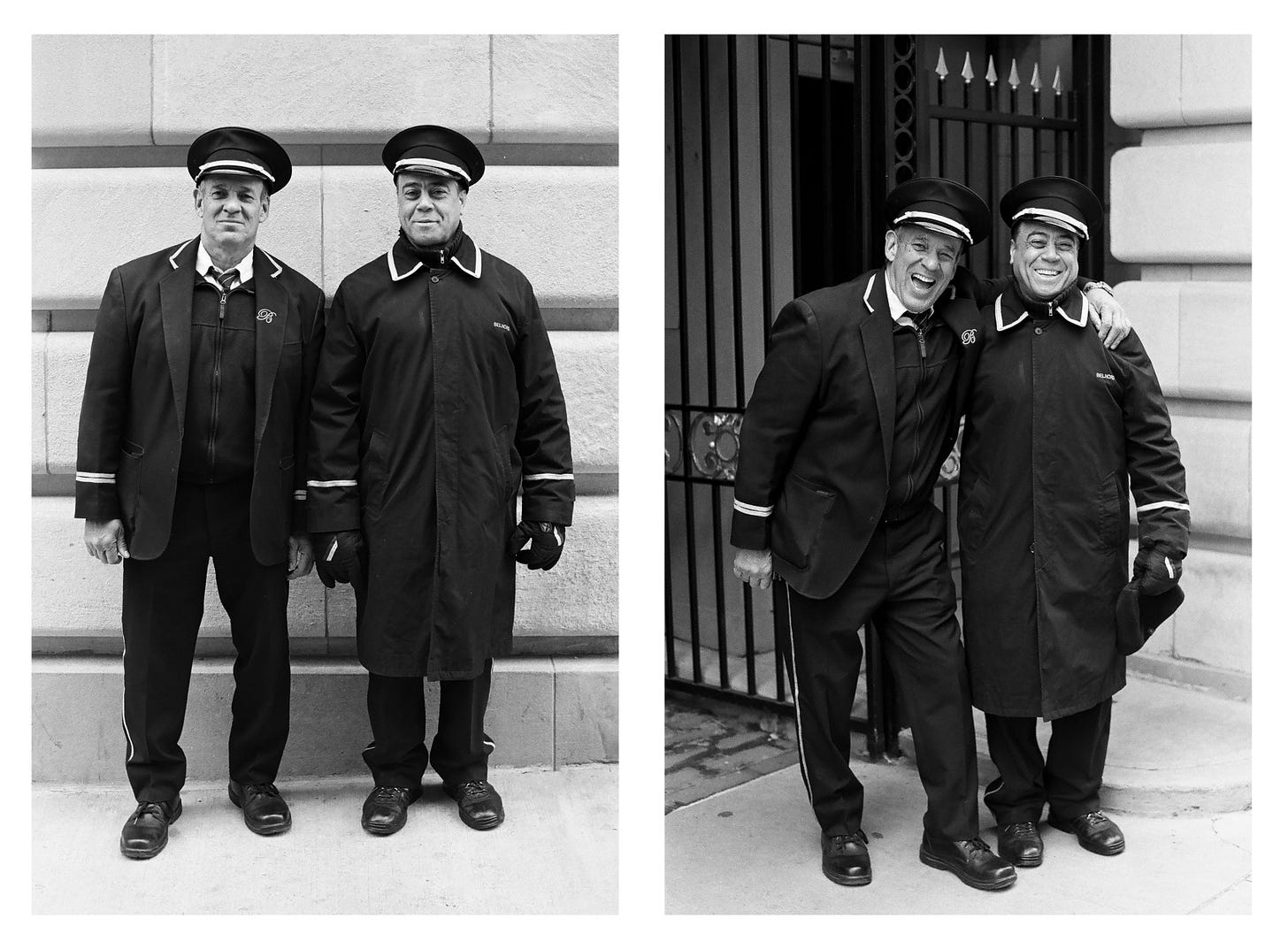 It was an immensely rewarding experience to meet and photograph the Davidsons. The most inspiring part was that, after six decades of working, Mr. Davidson is still just as on fire as when he started. He still shoots, and he is still excited to learn and grow - even with a legacy as powerful as his. That made me excited about my own future as a photographer.
One of the most beautiful things about photography is that it's a never-ending passion. There is always more to learn about this craft - more photo books to be inspired by, more things to document. Below is my favorite shot of the day.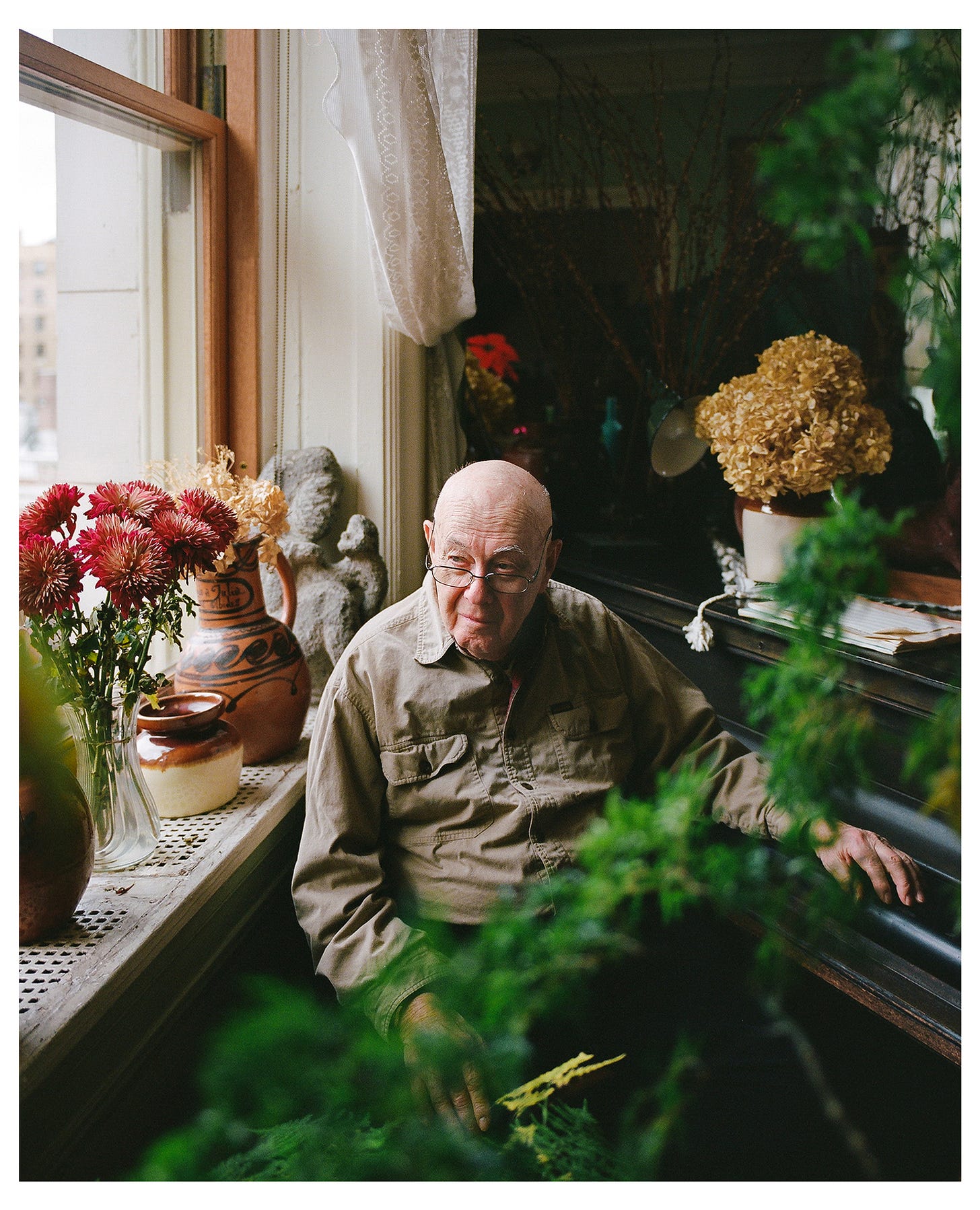 Lessons Learned
:
Bring higher ISO film just in case the light you are working with is less than expected. I should've brought some 800 ISO film, and have now added this to my pre-shoot packing list. Being over-prepared is never a bad thing.
Bring more film in general. I stepped into this shoot thinking I would have 15 minutes, but should have packed as if I had 3 hours. Just in case. I ran out of black and white film before I was done shooting. Thankfully Mr. Davidson kindly gifted me a roll of Tri-X so I could get in another ten shots. Those last bonus shots ended up being the images of the two of them together, which I am so grateful for.
Next time, I should toggle between metering for the highlights and shadows. I metered for the highlights the entire shoot, but the final set would've been stronger if I had chosen to also meter a few shots for the shadows. Specifically the shots of the Davidsons together. This would have resulted in a brighter image, which would have been more appropriate for those shots than the moody shadow vibe since they are so in love. I might've lost some detail in the highlights but it would have been worth it to get some more detail back in the shadows.
It's easy to focus only on our subject during a portrait shoot. However, grabbing shots of the details and the general environment helps provide so much context for a portrait leading to richer storytelling. The piano, all the framed photos, the flowers, the darkroom tour video, all of these help showcase what Mr. Davidson and his wife are about.
---
Thank you for making it to the end of the first issue of Process.
I will end each issue with a question or suggestion. For this first one, I'd love for us to get to know each other better by asking you:
Why is photography important to you?
Hit reply with a sentence or two, and I will share some of the answers next time. If you prefer to stay anonymous just let me know. If you're reading this on the website just email me at hello@wesley.co with your answer.
Photography is a craft of solitude, but it doesn't mean we have to be lonely. Let's get to know each other and build a community.
Thank you again for being here. I'm grateful you are along for the ride.
Waving from Amsterdam,
Wesley
PS Would you like to help me decide what to write about? I have created a public Google Doc listing topics I plan on covering and you can leave your suggestions there. I will add the best ones to the Google Doc, with credit, as they come in. I would love to hear your thoughts.
---
Process is a letter from Wesley Verhoeve.
Issue 002 will arrive in your inbox February 2nd.
In the mean time, follow along at @wesley.
As always, I really appreciate you sharing this newsletter with your friends.
---
All images in this issue were developed and scanned by Bleeker Digital in NYC.
Cameras/Lenses Used: Pentax 67ii (55mm, 105mm) + Pentax LX (50mm)
Film Stock: Kodak Tri-X 400, Portra 400, TMax 400.

The photo of me was taken by Chris Michel. The camera logo was illustrated by Jeffrey Phillips.