Process 079 ☼ The Magic of Red and Polarization Filters
How to create dramatic skies with filters
Dear friends,
In this letter I talk about the wonders of using red and polarization filters. If you've ever asked yourself: "How can I use polarization filters in film photography?" I gotchu, we're going crazy niche today.
Housekeeping
Remember when I teamed up with Fotohandel Delfshaven and Amsterdam Camera Repairs to give away a Hasselblad 500C? My assistant Taylor grabbed some iPhone footage of the day and paired it with scans of winner Fede's first medium format shots.
---
How I Got Hooked On Red Filters
A few years ago, driving back after a weekend of cabins and forests and blankets we came across a farmer's market along the highway somewhere in the Catskills area of New York State. Any time I spot a farmer's market I have to check it out, so we did.
Alongside farmers selling vegetables, fruit, and local honey there was a table where an older gentleman by the name of Alvin Reiner was selling photo prints. His presence surprised me and his work was stunning. I was particularly enamoured by his work on the natural beauty of Utah and wanted to purchase a few of his prints.
Mr. Reiner was only able to take payment in cash and I had no cash on me, but in that small town way of trusting people he let me take the prints home if I promised to send him money in the mail once I got home. This humanity made the prints even more lovely to me. I bought three, including the two below.
The dark skies really spoke to me and Mr. Reiner had told me that those could be accomplished by using a red filter so the soonest I could I bought a red filter for my Pentax LX camera. A red filter adds a dramatic flair by increasing contrast and deepening a blue sky while making white clouds pop extra hard.
Red filters are a favorite among landscape photographers and are often used to add drama. In nature photography, a red filter will increase the contrast between red flowers and green foliage. A red filter will deepen a blue sky and make white clouds or structure pop out. Here are some images I made in Vancouver employing the same method, shot on Lomography Fantôme 8 ISO film.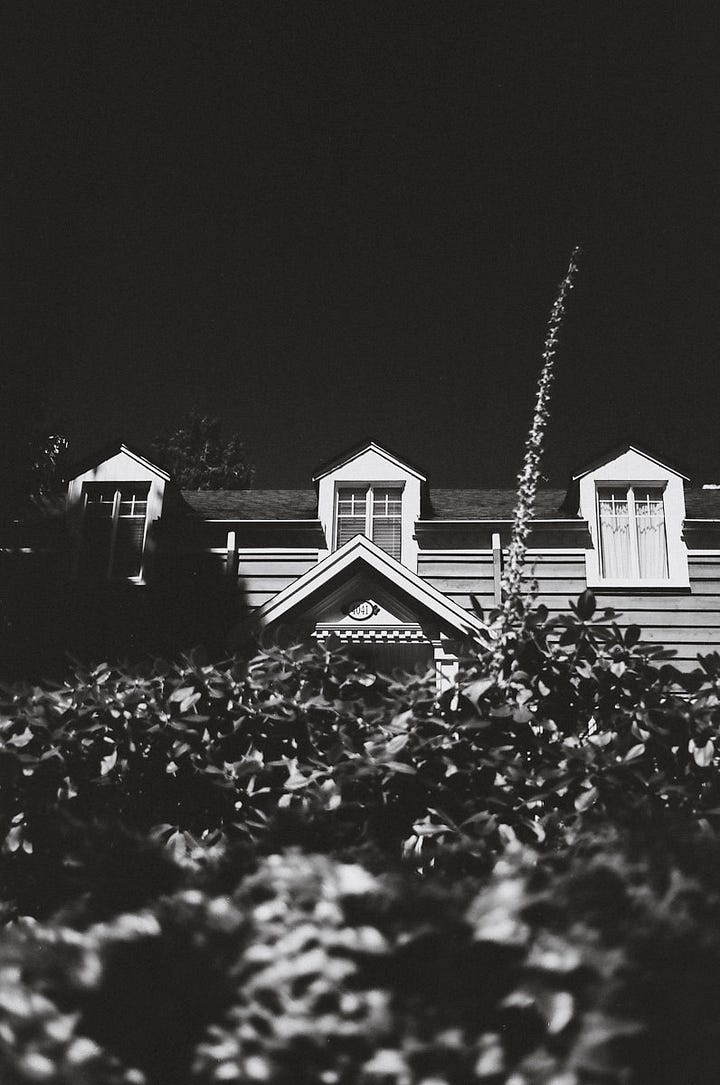 A red filter can only be used with black and white film. Below you can see how it affects Kodak Color Plus film if you forget to remove the filter, like I do sometimes.
So what can we do when we want to add contrast to our blue skies when we're shooting color film? A polarization filter!
Using A Polarization Filter
A polarization filter and a red filter are quite different but they overlap in one way: adding contrast to a blue sky. The main use of a polarization filter is to reduce reflected sunlight when taking pictures of water or glass, but that's not the topic of today's letter. Today we're just talking about darkening skies.
The images below we taken on my Hasselblad 500cm with an 80mm lens and a B50 2x polarization filter, using a single roll of Fujifilm Provia 100F that expired in 2012.
Fujifilm Provia is a slide film which tends to generate richer blues and in combination with the polarization filter this image pops so deliciously hard. I may offer this image in a darkroom print in the future because I'm in love with the little airplane soaring.
I keep talking about blue skies because polarization filters only really do their job when the sun is out properly with either a clear blue day or a haze with some clouds. Otherwise there is not much to add contrast to.
Another thing to keep in mind, and this is not the case with a red filter, is that the sun should be at an angle of roughly 90 degrees from where you're standing. The polarization filter loses its effectiveness if you're shooting with the sun behind you.
Something to keep in mind with both the red and the polarization filter is that you're blocking light from going into the camera. To compensate for this loss of light I recommend metering 1-2 stops down. In this case I shot this film at 25 ISO.
Another way the polarization filter is different from the red filter is that the front element rotates. This allows us to dial in the amount of polarization from low to high, which can be changed for each individual picture, giving us flexibility. For these photos I had the filter turned to the max because the circumstances allowed it.
A few more things to note when considering a polarization filter:
You'll need significantly more light than normal, roughly 1-2 extra stops.

They're among the most expensive filters, mine cost 25 euros.

They don't work as well on lenses wider than 35mm.
Here is the rest of the roll, expertly developed and scanned by my good friends at Carmencita Film Lab. Use code "PROCESS" at check out to get a free size upgrade for your scans. I can't recommend them enough.
If you'd like to pick up your own polarization or red filter I can highly recommend my friends at Moment who sell them new. If you'd like to pick up a second-hand one my friends at Fotohandel Delfshaven can help. The Moment link is a partner link which means I receive a tiny cut of anything you buy at no extra cost to you which supports Process.
---
That's it for this week!
Next week: I'm taking you on a trip around the world visiting barbershops for a client shoot I did for an American razor company.
Keep shooting and take good care of yourselves and others.
Wesley
PS Shout out to Jason over at TwoHourPhoto's for including me on their Ten Photographers You Should Know list.
PPS One of my favorite NOTICE images is included in the new Booooooom photo book Circles. It's gorgeous and available now. Thank you Jeff!
---
Did you enjoy this issue? Share it with a friend who might love it too.
Can't get enough? Browse the Process Archives.
Find me on Glass / LinkedIn / Instagram / Twitter / Pocket / YouTube